As we think about workplace safety as we close out 2022 and put our 2023 plans in place, two statistics should be top of mind for us all:
1) Fall-related workplace fatalities are increasing.
While the overall workplace has become safer over the past 30 years, workplace fatalities attributed to falls have sharply risen over the same period. On average, 778 people die each year from workplace falls. This has increased 17% since the 1990s.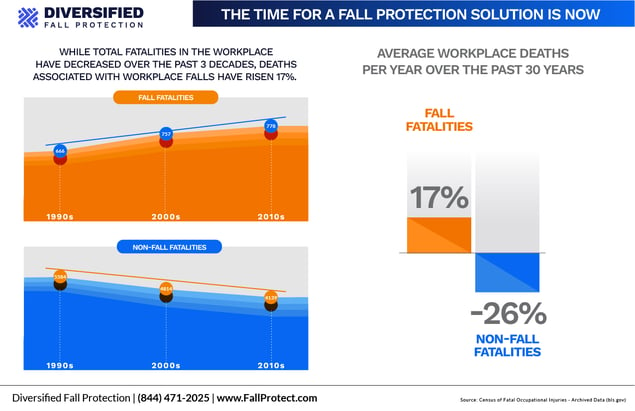 2) Fall-related standards make up 4 of OSHA's top 10 most cited standards.
Each year OSHA publishes its list of the top 10 most cited standards. Fall-related standards continue to dominate this list. Fall Protection, Scaffolding, Ladders, and Fall Protection Training made it onto OSHA's top 10 most cited standards for 2020.
Why should your safety program focus on fall protection in 2023? It's simple; not enough is being done to prevent falls in the workplace.


10 fall protection tips to keep your employees and your business safe:


1) Annual Inspections
Most of the components used in fall protection systems must be inspected annually per manufacturer specifications. It's essential to comply with these specifications for regulatory reasons, but it also ensures that your equipment will work when you need it. By inspecting and documenting repairs, you can extend the life of your fall protection and maximize your investment. Diversified Fall Protection will inspect any fall protection system, even those that we did not install, and our national network of fall protection specialists makes scheduling convenient and easy.
2) Parapet Walls
Some people assume that if there is a parapet wall at the top of a building they don't need additional fall protection. However, according to OSHA, parapets must meet the same height requirements for fall protection as guard rails if they serve as a means of fall protection. They must be 42 inches, plus or minus 3 inches, to be compliant with OSHA fall protection regulations (1910.29(b)(1)). Next time you are on a roof, put your tape measure on the parapet, and you might be surprised by how high it is.
3) Ladders
Many access ladders installed before 2018 are now non-compliant. OSHA requires that there be a minimum of 7 inches between the rungs of a fixed ladder and the nearest permanent object (1910.23(d)(2)). Pipes and other objects running between a wall and access ladders make this an issue for many existing ladders. Diversified Fall Protection and their patented EZ series ladders address this issue by offering an adjustable wall mount that eliminates the need for field welding and cutting, saving time and money. Also, as of November 2018, cages are no longer accepted as a sufficient means of fall protection for fixed ladders taller or extending past 24 feet high. The use of a personal fall arrest system or a ladder safety system is now required.
4) Warning Lines
When can you use warning lines? OSHA says, "When work is performed at least 6 feet (1.6 m) but less than 15 feet (4.6 m) from the roof edge, the employer must ensure each employee is protected from falling by using a guardrail system, safety net system, travel restraint system, or personal fall arrest system. The employer may use a designated area when performing work that is both infrequent and temporary." (1910.28(b)(13)(ii)) OSHA defines a designated work area as "a distinct portion of a walking-working surface delineated by a warning line in which employees may perform work without additional fall protection." The rules around employees working near the unprotected edge of a low slope roof can be confusing, and it's always best to consult the regulation before establishing a fall protection plan.
5) Skylights and Roof Hatches
Skylights and roof hatches present serious fall hazards to workers. OSHA tells us that employees must be protected from falling, stepping, or tripping through holes 4 feet or more above a lower level through the use of covers, guardrails, restrain systems, or personal fall arrest systems. (1910.28(b)(3)(i))
6) Training
Without proper training, it's easy to make mistakes with fall protection that could cost someone their life. OSHA dictates that any employee who may be exposed to a fall hazard must be able to recognize fall hazards and be trained in ways to minimize those hazards (1910.28(b)(1)(ii)). Therefore, it's essential to train your employees to properly use each fall protection system component and retrain whenever any new equipment is purchased. Following the installation of any fall protection equipment by Diversified Fall Protection, your staff will receive direct training during an interactive, hands-on session.
7) Weight Ratings
How much weight can your harness support? Most manufacturers sell harnesses with a weight capacity of 400 lbs or greater. This is great news when you have some larger workers on your staff; however, the harness is only one of the components in a fall protection system. You must know the capacity of your harness, lanyard or SRL, anchor point, and any connecting devices. Every component in the fall protection system must work for the system to be effective.
8) Suspension Trauma
Suspension trauma is caused when a worker falls and is suspended in a fall protection harness. The harness's leg straps apply pressure to the femoral arteries in the legs, which cut off blood circulation. This lack of blood flow can result in serious medical conditions or even death. One way to combat this is to buy an add-on for your harnesses called a trauma strap. It's a loop that you attach to your harness that allows a suspended worker to slip their feet into it and then stand up, which relieves the pressure on their legs and gives you more time to retrieve the fallen worker.
9) Rescue Plan
Ok, someone fell, their fall protection saved them, now what? As we learned in tip 8, an employee hanging in a harness for too long can be just as dangerous as the fall itself. So whenever you have people working at height, you need to have a rescue plan in place. How will you get them down? A ladder, a scissor lift, whatever makes sense for the situation. Just remember that time is of the essence.
10) Anchor Points
It's challenging to find an anchor point, especially when that anchor point must be able to withstand 5,000 pounds per person attached (1910.140(c)(13)(i)) To give you a visual, a full-size pickup truck is about 5000 pounds. Do you think you could hang a full-size pickup truck from that anchor point? Only a qualified person can make that determination (1910.140(c)(13)(ii)).
With the rise of fall-related fatalities, we must refocus our attention on fall safety so that everyone can go home safe at the end of the day. Diversified Fall Protection delivers value through the systems we engineer and the industry expertise brought to client partnerships. Since 1994, our team has established a reputation for educating clients and delivering OSHA-compliant fall protection solutions.