Fall Hazard assessment for ANSI & OSHA Compliance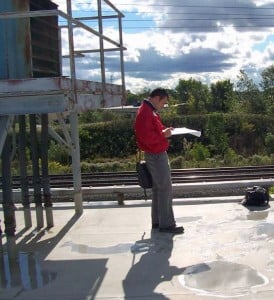 Are you worried about OSHA compliance or the potential impact of a workplace fall? Do you see risk management and loss prevention as strategic goals? Is your organization struggling to improve its safety culture?
If you answered yes to any of these questions, it is time to take proactive steps to build a safer workplace. Rather than reacting to an accident–or an OSHA citation–consider an on-site fall hazard assessment from the safety experts at Diversified Fall Protection.
By partnering with Diversified Fall Protection to assess your fall hazards, you benefit from working with an organization that has deep knowledge in fall protection and years of experience across a wide spectrum of industries and applications. In addition, you'll have access to individuals defined by OSHA as a "qualified person" based on our specific fall protection training and experience. The net effect of this support and expertise shifts the burden of designing and deploying a fall protection system off your organization, allowing you to focus on your core duties.
Fall protection is a complex and often confusing component of any company's safety program, so why not partner with a trusted advisor to achieve your safety goals?
Need more convincing? Consider these sobering statistics:
The failure to provide fall protection is consistently ranked as OSHA's #1 Citation
OSHA penalties for non-compliance are scheduled to increase by 80% this year
Falls are the leading cause of occupational injuries and deaths
The annual, direct costs of falls to U.S. companies is $15 billion dollars
13 workers die on the job each day in the US–many of them from injuries sustained during falls
Diversified's safety specialists will provide can provide onsite and virtual fall hazard assessments to evaluate:
Building dimensions and structure

Work procedures

Number of users exposed to fall hazard simultaneously

Duration and frequency of exposure

Fall clearance and other site specific considerations
Our skilled fall protection professionals will discuss available options for fall risk elimination and prevention, or a system that can safely arrest the user's fall prior to reaching any lower levels. Diversified Fall Protection provides a custom fall protection system with a specific plan of action for your workplace, including the proper certification, as well as training for your staff or system users by a "qualified person".
Ready to take the next step?
For the safest daily operations in your workplace, contact the experts at Diversified Fall Protection. We can provide a fall hazard assessment for your facility, a comprehensive report of our findings, and recommendations for solutions to existing workplace fall hazards.
Talk to a fall protection specialist
Tell us about your fall protection needs, and we'll configure a system that rises to your challenges.