Virtual Rooftop Fall Hazard Assessment: OSHA Compliance Simplified
Do you know you need to put together a rooftop fall protection program, but are struggling with how to start?
Or are you finding it difficult to get an accurate assessment of what's required for your facility's fall protection program?
If you answered yes to either of these questions, take advantage of DFP's exclusive program that allows our fall protection specialists to identify critical roof fall hazards and potential solutions without visiting your facility.
For several years, our safety engineers have used satellite and aerial imaging to identify rooftop fall hazards.
No Charge to Your Company for Our Assessment
Armed with only a physical address and your commitment to spend a half hour discussing the type and frequency of work performed on the roof, we can identify your roof hazards and prepare for you a detailed plan outlining proposed solutions and related costs.
Below you can see a sample diagram for a roof analyzed via a virtual site visit: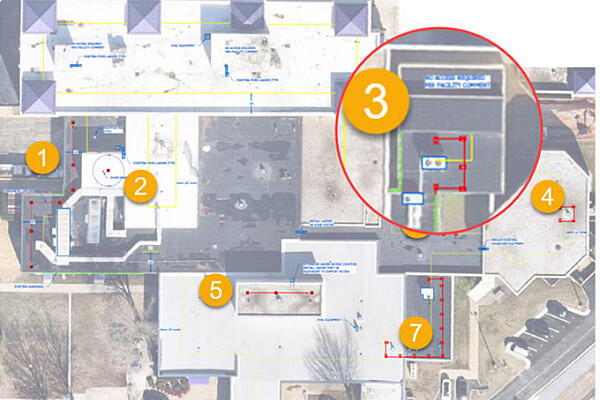 Advantages of Virtual Rooftop Assessments
Even if your organization isn't ready to initiate a rooftop fall protection program just yet, a virtual assessment can assist with defining scope and budget parameters.
With a finished deliverable prepared by your Diversified Fall Protection safety specialist in hand, you'll be prepared when it's time to submit your fall protection plan for internal budget approval.
Even for safety specialists with multiple facilities or those working offsite, making time for a safe, visit-free fall hazard assessment will keep safety programs moving forward.
Parting Thoughts
It is important to remember that while a virtual roof survey is an excellent way to generate a preliminary project budget, an on-site visit can still help us better capture information (e.g., elevation changes and roof pitch) required to finalize project scope and related costs. That said, preparatory work done prior to starting a formal budgeting process continues advancing your project.
Fill out the form on this page or call 1-844-958-1144 to schedule a virtual rooftop assessment.