Fall Protection and Suspended Access System Installation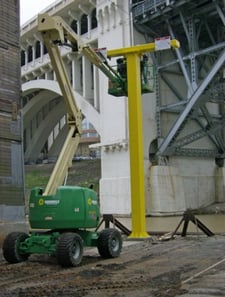 Since 1994, Diversified Fall Protection has completed turnkey fall protection and suspended access system installations for over 20,000 customers, coast-to-coast. Typical Diversified installations include ladder safety systems, horizontal lifelines, roof guardrail, loading platforms, window washing anchorage, suspended maintenance access systems, and more.
Whether your fall protection or suspended maintenance application is a retrofit to existing facilities or new construction, the Diversified team understands the importance of keeping your project on schedule.
As a turnkey solutions provider, Diversified's experienced project managers take complete responsibility for driving each project to successful completion. Serving as a single point of contact for our clients, project managers coordinate internally with our qualified team of designers and professional engineers to deliver executable installation drawings that meet the access needs of the project and comply with current industry standards.
Diversified's in-house team of installation technicians mobilize from strategically selected home base locations, including Ohio, Texas, North Carolina, Missouri, and Florida, to deliver the best value to our clients with efficient turnaround time. By having company-employed leaders in the field performing the installation, Diversified is able to control the process directly and ensure that each system is installed per specification and installation drawings.
Diverisified's team of qualified experts are able to successfully take a project from concept design through installation and certification, eliminating the unknowns of subcontractors or multiple vendors that could lead to system limitations and errors. Diversified's quality control afforded by our in-house turnkey model is essential when installing life safety equipment.
To learn more about our turnkey installation advantages, contact Diversified Fall Protection for further assistance.
Talk to a fall protection specialist
Tell us about your fall protection needs, and we'll configure a system that rises to your challenges.