One of the most common fall protections misconceptions concerns the 5,000-pound anchorage requirement. Contrary to what you may have heard, not all fall protection anchors need to be rated at 5,000 pounds per OSHA, and here's why….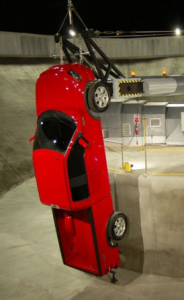 There are two paths to OSHA compliance when it comes to fall protection anchorage:
OSHA 1910.140(c) (13)(i) states that anchors "shall be…capable of supporting at least 5,000 pounds (22.2 kN) per employee attached."
OSHA 1910.140(c) (13)(ii) specifies that anchors shall be "Designed, installed, and used, under the supervision of qualified person, as part of a complete personal fall protection system that maintains a safety factor of at least two.…"
To put the 5,000 pound load requirement into perspective–imagine an anchor point strong enough to suspend a full size pick-up…
If we circle back to the language cited above, OSHA holds fall protection systems designed by a qualified person to a different standard—two times the applied load. With an engineered system, it is not uncommon to see applied loads ranging from 900 to 1,200 pounds (for a single user) during fall arrest. Even with a safety factor of two, an engineered system rated for applied loads ranging from 1,800 to 2,400 pounds is a very different than a 5,000-pound anchor point.
For many, imagining an anchor capable of suspending a truck is an easier concept to grasp than two times the applied load, but meeting either requirement satisfies OSHA. That said, self-performing and installing an anchor point rated for 5,000 lbs isn't as simple as it sounds. And if you hire a professional engineer to assess your connecting structure, you probably won't see the savings you hoped to achieve by installing a non-engineered anchor point.
To discuss the specifics of your application, or to learn more about OSHA fall protection requirements and how to remediate fall hazards, contact the safety experts at Diversified Fall Protection for further assistance.