Ladder Lifelines ensure your personnel's safety and security when climbing fixed ladders. Click to Enlarge Image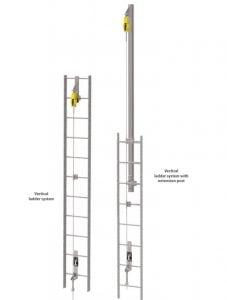 Unlike cage systems which often foster a false sense of security, a vertical lifeline can arrest a fall if a worker slips while climbing a ladder. As of November 19, 2018, based on OSHA's regulations (July 2017), newly installed vertical access ladders of 24 feet or more will be required to have a personal fall protection system installed.
Traditionally designed "cages" will not be considered compliant.
MSA's ladder lifeline kits are an ideal solution for worker safety and OSHA compliance – expensive to fabricate, install, and maintain.
LATCHWAYS fixed vertical ladder fall protection kit is compliant with OSHA 1910 Walking-Working Surfaces. Kits are pre-swaged and come in the following lengths: Click to Enlarge Image
20ft / 6m
40ft / 12m
55ft / 17m
75ft / 22m
90ft / 27m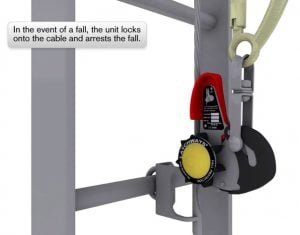 Common fixed ladder lifeline applications include poles, water and cell phone towers, tanks, wind turbines, and silos. In addition, many industrial facilities use permanently mounted ladders for employees and outside contractors to access the roof for maintenance. These roof access ladders may be mounted inside or outside the facility.
If the ladder is attached on the exterior of the building, be aware that OSHA regulations require a lockout system at the base of the ladder to prevent untrained or unauthorized people from climbing the ladder.
Click to Enlarge Image
Whether your permanent ladder is inside or outdoors, straight or curved, the fall protection specialists at Diversified Fall Protection can engineer and install a ladder lifeline system to meet your specific needs.
Ladder safety systems engineered and installed by Diversified Fall Protection ensure your personnel's safety and security when climbing fixed ladders.