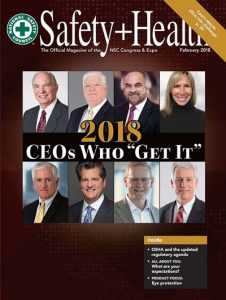 Every year, The National Safety Council publishes a cover story on CEOs who "get" safety.
The CEOs profiled in this article understand that building a safety culture in their organization starts with them – the choices they make, where they focus their efforts, and the expectations they set for others. This top-down approach is highly effective for creating a safer work environment for employees. The "CEOs Who Get It" also put safety before profits – although, that isn't to say, increased safety won't improve a company's bottom-line – because it often does!
During a recent NSC Congress and Expo, attendees were surveyed to identify significant safety challenges. By a wide margin, the survey participants said the biggest challenge faced in promoting a safety culture was leadership commitment and engaging employees (62 percent). Reducing risk (18 percent), safety management systems (11 percent), and measuring performance (9 percent) were chosen as the main challenge in promoting a safety culture significantly less.
While reading this year's story, our President, Jeff Schneid, recognized that the men and women profiled share many of the same core values as CEOs of the companies with which Diversified Fall Protection works. To help capture both the sense of value and commitment to a safe work environment voiced by the CEOs profiled, we would like to share some of their explanations of WHY safety is a core value at his or her organization.
Daniel Evans / Fluor Federal Petroleum Operations: "Safety is the first core value (Safety, Integrity, Teamwork and Excellence) at Fluor Federal Petroleum Operations because we truly care about our employees. Our employees are our greatest asset, and making sure they are safe is our top priority."
Tammie Johnson / CJ Drilling : "Nothing is more important to our overall success than our employees going home safe each and every day. I owe it to our employees to provide the resources necessary to prevent injuries and incidents. This is a commitment that I take personally and I require throughout every level of employment within the company."
Michael McMahon / Day & Zimmermann ECM: "Safety begins at the top with strong core values that are fundamental to our owners, the Yoh family, who carry the zero injury safety focus across all the Day & Zimmermann companies. Safety is our No. 1 corporate value, and nothing is more important. We care about safety because we care about our people. We are a people business. Our employees and our customers have come to associate Day & Zimmermann with safe delivery because of our constant vigilance and daily commitment to create a work environment that is without accident or injury."
Chris Papas / Trinseo: "We treat safety performance as a line management responsibility, with each line manager being accountable for the safety results of their department. We expect all leaders to show a strong and visible commitment to safety. Safety also is a critical piece of career advancement for leaders in manufacturing. Simply put, if a production leader or operations leader has consistently poor safety performance in their plant, this can affect their promotions and career advancement in the future."
"We've found that safe and healthy working environments foster greater productivity, but also strengthen our relationships in the communities where we operate and bring us closer together as an organization."
"The most valuable resources we have at Trinseo are our employees. Keeping our people safe and healthy is essential to our success and all that we've been able to accomplish."
You may be wondering, beyond showcasing the thought leadership of safety minded CEOs, how can you use this article to gain C-Suite support for your proposed fall protection project? The answer to this question is simpler than you might think. The "CEOs Who Get It" are motivated by something more than achieving and maintaining OSHA compliance. The core value for the "CEO's Who Get It" is safety–not compliance.
One thing you may have noticed in the quotes above is the lack of references to OSHA. This is why it is critically important to use language that resonates with your CEO (or C-Suite) and equate an investment in fall protection to the organization's commitment to safety as a core value rather than a compliance issue.
We salute the NSC for spotlighting success, sharing stories, and hopefully inspiring other business leaders to step up to the challenge. Does your CEO 'get it'? If not, pass along this blog post, or better yet, send him or her the National Safety Council's 2018 CEOs WHO "GET IT" cover story!