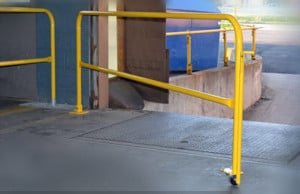 On a recent site visit, one of our clients asked if OSHA's 1910 four foot rule applies to loading docks. The short answer is usually, yes. Most loading docks are 48-52" tall, but we do see instances of docks a few inches shy of four feet–say 46". By strict letter of the law, a 46" dock does not require fall protection under the provisions of OSHA 1910. That said, even docks coming in under 4 feet should utilize some sort of fall protection system…
Clients sometimes kid themselves claiming their unprotected 46" dock area is safe because the bay door is always closed when the dock is not in use—even on hot summer days. That said, when a fork lift accidently goes over the edge, is a 46" drop somehow less dangerous than a 48" drop? Will your tow motor—or more importantly, your driver–sustain less serious injuries with a 46" drop? We think the answer here is a resounding no. An accident involving a fork lift and its driver can have catastrophic consequences from this height. Even though we stress the need for OSHA compliance, this is a classic case where common sense trumps OSHA regulations. Regardless of what OSHA has to say about the precise height when fall protection is required, loading docks with unprotected leading edges are dangerous—end of story.
You might think we are taking this tough stance because we sell loading dock guardrail. That said, we don't preach OSHA fall protection compliance because it is the law or to make a few additional sales. Every day, hard-working people step foot into your facility—and as an employer, you have an obligation to them—and their loved ones—to ensure every employee returns home safely each day.
With all of this in mind, we have a simple solution to increase the safety of your shipping and receiving areas. If you are still searching for an ideal fall protection solution for your loading docks, take a moment to watch the short video clip below:
Our Lorgate system comes in standard 6′, 8′ 10′ and 12′ sections to accommodate the most common loading dock bay widths, but you can combine two Lorgates to protect wider openings, or we can custom fabricate a system in our shop to meet special requests. To learn more about safety railings for loading docks, visit us online at www.portableguardrail.com or contact Diversified Fall Protection for further assistance.