Henry Ford once said "You can buy a Model T in any color as long as it is black." If you have spent time searching online or consulting catalogs, you may assume Ford's rule applies to guardrail too because most of the guardrail you'll see is safety yellow. Don't get us wrong–yellow guardrail is highly visible and a good way to remind folks that a leading edge is near. That said, there are times when a perimeter railing system needs to blend with a building. Whether you prefer guardrail that matches company colors or the goal is concealing the fall protection system from the ground level, we can help.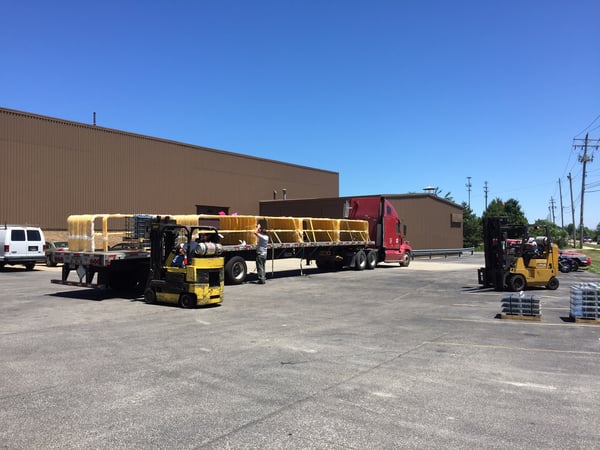 A truck load of yellow guardrail and base plates leaving our factory in Cleveland, Ohio is a common sight.
If you have struggled to locate a vendor to provide custom color guardrail, or your fall protection company wants a premium for non-yellow, we have good news. Diversified Fall Protection offers portable guardrail in custom colors–and you won't pay more to swap out safety yellow for a color more to your liking. And if your application requires additional corrosion resistance, or you simply look of a plain metal finish, we also offer pre-galvanized guardrail for a small upcharge.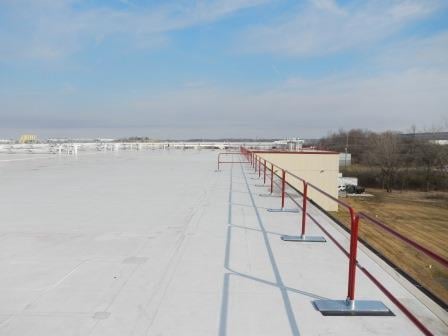 Please note there are a few extra steps involved with ordering custom color rooftop guardrail, but we are committed to making the process as easy and painless as possible. To guarantee a custom color match, refer to our custom color chart and contact one of our team members prior to placing your order. Lead times are slightly longer with custom colors since we need to powder coat each section to match the RAL color number selected, but when standard yellow won't due, custom color powder coating is worth the wait. The finished product will blend with the rest of your building's color scheme and provide years of enhanced worker safety and OSHA compliance. To learn more or start the ordering process, visit our custom color guardrail section or contact Diversified Fall Protection for further assistance.