From loading docks to ramped walls to raised access platforms, Diversified Fall Protection can design, fabricate, and install a guardrail system that protects your entire loading dock facility. And according to OSHA's 1910-regulation on general industry requirements, some form of fall protection is required along a leading edge where there is an elevation change of equal to or greater than four (4) feet – a dangerously typical predicament in loading dock environments. Enter the LORGATE, Diversified Fall Protection's Loading Dock Fall Protection system.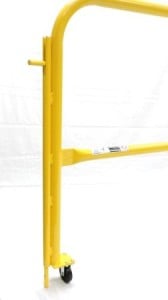 The LORGATE is an improved loading dock fall protection system with the pivot side anchored to the desired surface and the movable side fitted with a pivoting caster wheel. This design contrast eliminates manual or vertical lifting of the gated fall protection system seen in most competitor products. The pivoting caster wheel receives the gate's weight so an individual can easily move the OSHA compliant gate for complete access to the overhead door or truck opening. When the individual's job duty is complete, the LORGATE's movable side is then rolled to align the gate back into its anchored position, and locked in by a gate pin.
The combination of the gate pins' locking mechanism, the pivot caster wheels' range of motion, and the custom color guardrail, allows your loading dock to operate in the chaotic manner it's meant too. The LORGATE Loading Dock Fall Protection system extinguishes fall risk hazards to individuals operating in and around the loading dock area, specifically because the loading dock doors generally remain open and even unguarded, protecting your assets.