FOR IMMEDIATE RELEASE
CLEVELAND, OH (March, 2nd 2021) — Diversified Fall Protection, a leading fall protection systems and solutions provider, announced today the launch of its updated website, FallProtect.com. This website redesign is part of a broader rebranding effort for the company, resulting from its rapid organizational growth.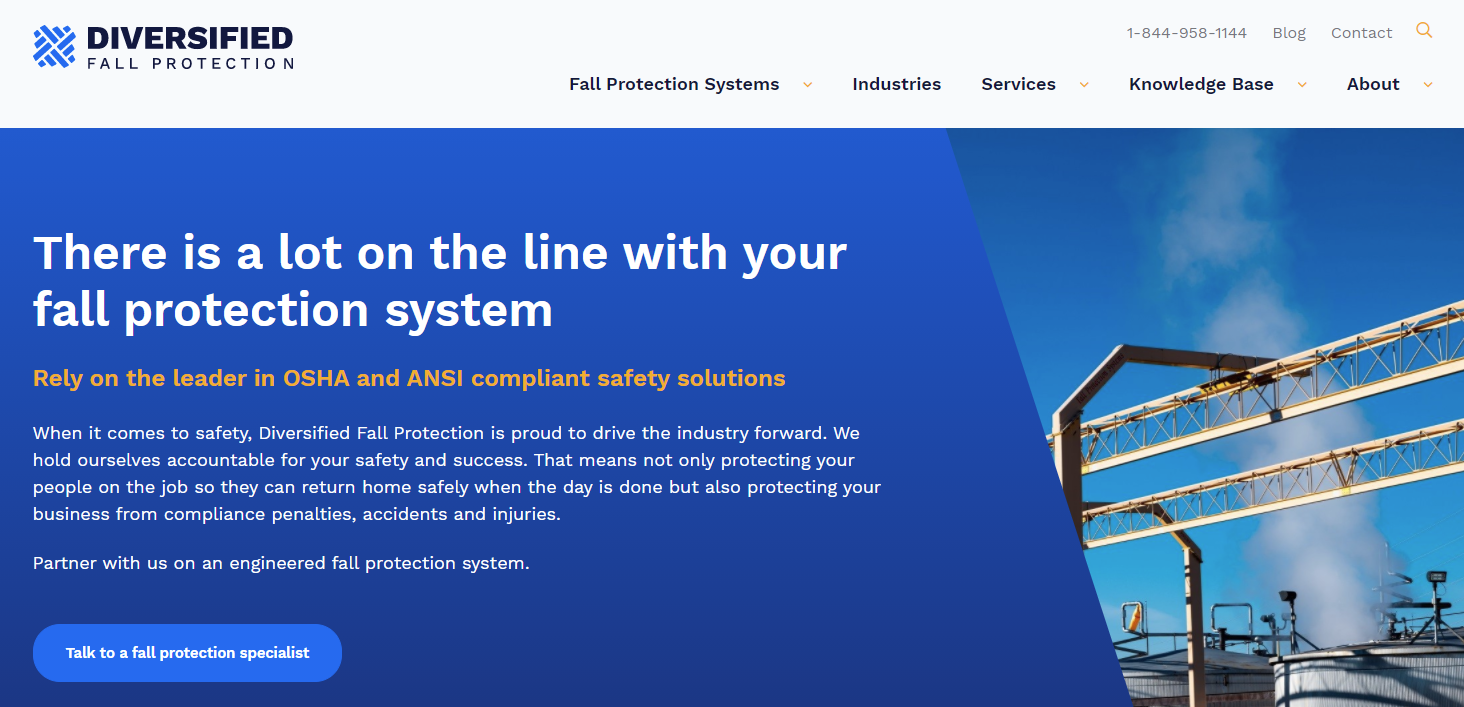 As the fall protection industry experiences consolidation, Diversified Fall Protection has identified like-minded companies to bring into its brand portfolio through a series of strategic acquisitions, including trusted fall safety brands, PEAK Fall Protection and Fall Protection Systems.
"We have significant plans for expansion in 2021 and beyond. As we continue to acquire businesses and evolve as a leading fall protection resource, it's time for us to look the part," said Jeff Schneid, president of Diversified Fall Protection.
This chapter of growth created an opportunity to revisit the Diversified Fall Protection brand and website. The new FallProtect.com is designed to better serve existing customers, tell the evolving DFP story and promote the company's systems, solutions and fall protection resources.
"We are excited to see how these updates continue to support the success of our business, our team and our customers. At the end of the day, that's what it's all about," said Schneid.
If you are in need of a complete, compliant fall protection system to safeguard your people, property and bottom line, visit FallProtect.com to learn more. The experienced members of the DFP team are eager to assist you on your next project.
###
About Diversified Fall Protection
Diversified Fall Protection specializes in the design, development and manufacture of highly engineered fall protection systems designed to keep workers safe while working at heights. DFP is committed to protecting customers from the most common causes of work-related injuries, through the installation of OSHA-compliant solutions. Learn more at FallProtect.com.
Media Contact
Brandon Kelderhouse
VP of Sales and Marketing
800-504-4016
bkelderhouse@fallprotect.com