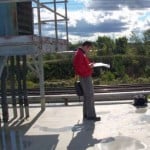 Installing fall protection equipment demonstrates a commitment to safety, but without periodic inspection, the system may fail when your employees need it most. This post is designed to help you better understand what our inspectors look for during a site visit, and what to during the re-certification process.

Inspection for Re-certification
Inspection and re-certification are two phases of an annual review process. During an inspection, the safety engineer will determine if repairs and adjustments are needed to re-certify the system. If the inspector finds the fall protection system in good working order, then no repairs are required to re-certify. In other instances, repairs are needed before we can move forward with re-certification. We call the entire process "inspection for re-certification."
Horizontal Lifeline Inspection
Horizontal lifelines require annual re-certification. In the event of a fall, tag the system out until a competent person inspects it. Prior to re-certifying your horizontal lifeline, our inspectors check cables for proper tension levels and signs of physical wear and examine all nuts, brackets, and hardware for proper torque and signs of damage. We also look for damage caused by unreported falls.
Inspecting Vertical Lifelines and Rigid Rail Fall Protection Systems
Vertical lifelines require inspection before each use and annual re-certification by a competent person. For cable systems, inspectors look for signs of cable wear and verify that the traveler mechanism is in good working order. The inspector will also examine all bolts, hardware, and brackets for signs of wear and damage. For vertical climbing systems, the inspector will check all bolts for proper torque and ensure that all brackets and hardware are secure and that the traveling and braking mechanism is operating properly. With vertical lifeline and rigid rail climbing systems, the inspector also looks for damage caused by undocumented falls that may need repair before re-certification.
Rigid Rail Trolley Beam Inspections
Rigid rail fall arrest systems require bi-annual inspection and re-certification, but annual inspections for equipment used in harsh environments. Like horizontal lifelines, the system must be tagged out and inspected immediately after a fall. During the system review, the trolley and welds are visually inspected, bolted connections are torque tested, and the inspector looks for visual deformations or signs of impact on the system. Again, just as the case with horizontal lifelines and vertical systems, the inspector will look for damage caused by unreported falls.
Why Engineering Documents are Important
When requesting the inspection and re-certification of a horizontal lifeline or rigid rail system, your fall protection company SHOULD review engineering documentation, including calculations and drawings. These documents provide important clues about the system, including the maximum number of users, fall clearances, and force levels exerted on the system during fall arrest. Without this information, the re-certification process is much more time-consuming (and expensive) because you are paying a third party to re-engineer an existing system. At Diversified Fall Protection, we archive all of the engineering information for each fall protection system we design, fabricate, and install. If our client loses or misplaces the engineering drawings, DFP can provide the necessary documentation for their fall protection system.
Next Steps
If your engineered system is past due for re-certification, contact your fall protection company to arrange a site visit. All DFP clients receive a 60-day re-certification notification to allow ample time for budgeting and scheduling. Remember, the costs associated with inspection and re-certification dwarf by comparison to the financial consequences that come with system failure during fall arrest. Inspection for re-certification is the best way to safeguard employee safety and maintain OSHA compliance. To learn more about re-certification of engineered fall protection systems, or to schedule a site visit, contact Diversified Fall Protection for further assistance.