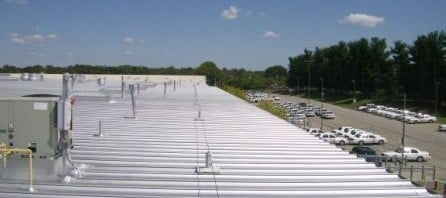 Diversified Fall Protection recently installed a horizontal lifeline system (also known as an HLL or HLL system) on a flat standing seam roof for a State Highway Patrol facility in Columbus, Ohio. Periodic inspection and maintenance of rooftop HVAC equipment and communication towers create potential fall hazards for building maintenance staff and contractors working during wet, windy, snowy, and icy conditions.
This rooftop's front and rear sections protect contractors and maintenance staff from falls with a parapet wall. The remaining sides present significant fall hazards due to unprotected leading edges. OSHA regulation 1926.501 (b) (1) addresses these portions of the rooftop and states "each employee on a walking/working surface (horizontal and vertical surface) with an unprotected side or edge which is 6 feet (1.8 m) or more above a lower level shall be protected from falling by the use of guardrail systems, safety net systems, or personal fall arrest systems."
A number of fall protection systems could have been used to protect workers and ensure OSHA compliance. Leading edges of this rooftop could have been protected with the installation of a passive restraint fall protection system such as guardrail or the erection of safety nets to provide fall arrest. Both of these options were rejected due to aesthetic considerations. An HLL system was chosen because horizontal lifelines offer lower profiles than guardrail systems and because they are lower to the roof deck, they are not visible at ground level.
These two horizontal lifeline systems, designed and installed by Diversified Fall Protection consists of 380′ and 550′ lengths and feature energy absorbing tip over posts that are attached to the standing seam roof with S5 clamps. If a fall occurs, the posts physically tip over, putting the fall load into shear therefore protecting the metal roof panels from damage. Another significant advantage to this type of HLL installation is that the S5 clamps eliminate the need to penetrate the roof in order to secure the tip over posts to structural beams. These HLL systems are rated at 310lbs per user and can accommodate four workers simultaneously.
DFP has over 30 years of experience designing and installing OSHA compliant horizontal lifelines and fall protection systems. We are a single source, turnkey provider committed to keeping your workers safe and your facility compliant. To learn more about horizontal lifelines, or to request a fall hazard assessment or quote, contact Diversified Fall protection for more information.