When it comes to rooftop fall protection installations, we hear common concerns. Clients want reassurances that the proposed solution is in alignment with available budgets and meets or exceeds OSHA requirements. We also field questions and concerns over roof modifications. Drilling holes or cutting to expose structural members beneath the roof's surface is an especially sensitive subject because many of our clients have hundreds of thousands or even millions of dollars invested in their roofs. Fortunately, we have a wide variety of rooftop fall protection solutions to address these pains.
The pictures below illustrate a 3,000 lineal foot guardrail installation on a building with a rubber membrane roof. As you can see, the roof surface is dotted with HVAC equipment requiring frequent maintenance, which in turn exposes workers to fall hazards.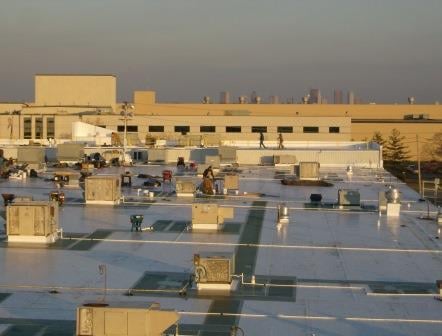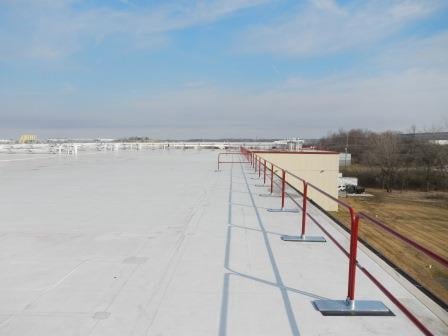 One option here is to install single point anchors or horizontal lifelines, but even with tip-over post designs, we would still need to drill four holes to secure each anchor point. These drilled holes are smaller than the openings required to install rigid post anchors, and each finished tip over post is flashed to prevent leaks. That said, when we need to avoid ALL penetrations, our LORGUARD™ non-penetrating rooftop guardrail is an ideal low slope fall protection solution.
Obviously we aren't the only company offering portable guardrail, but there are advantages to working with a single source supplier like DFP. Purchasing directly from the manufacturer eliminated middle-man markups and our client enjoyed the benefits of custom railing lengths (to avoid runs of PVC conduit and drainage areas) and color powder coating at no additional charge. Buying factory direct typically means lower costs, but with a large installation like the one shown here, the savings are substantial.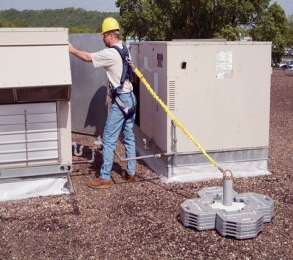 Although installing portable guardrail is rather simple, our client had us complete the project for a number of reasons. For starters, our client worried about exposing their employees to unprotected leading edges during the guardrail installation. All of our installation crews maintain 100% tie-off with free-standing weighted base anchor systems to ensure personal safety and OSHA compliance. Having an outside party to do the installation also avoids future incident liability.
The finished, 3,000-foot perimeter guardrail system offers a number of advantages over other available solutions. From an aesthetic standpoint, the custom color powder coating helps the guardrail blend nicely with the rest of the building from ground level. From a maintenance perspective, workers can service each of the rooftop HVAC systems and go virtually anywhere on the roof without taking the time to tie off. From a structural standpoint, the free-standing roof guardrail system is strong enough to resist high winds and meets all OSHA fall protection regulations, but the system is portable since the bases rest on the membrane surface. If our client ever moves to a new facility, we can easily remove the set screws securing the rails in place and re-install the LORGUARD in a new location.
If the thought of rooftop fall protection has your facilities manager worrying about budget, OSHA, and most importantly, leaks, give us a call or contact Diversified Fall Protection to discuss your specific needs