When it comes to exploring rooftop fall protection options, the first item of consideration is the roof itself. Your fall protection company will want to know if you have a steep or flat roof and the nature of the roofing materials. If you don't know the answers to these questions, the engineer charged with performing the site assessment can make these determinations using a supplied picture or when they arrive to assess the fall hazard; however, the ability to describe your roof in an email or phone call always gives your safety engineer a head start. Let's take a closer look at the styles of commercial roofs and the challenges they pose during the installation of fall protection systems.
Pitch
The angle, or pitch, of a roof is calculated by the number of inches in vertical rise for every 12 inches of horizontal extension. For example, a 1:12 roof has 1 inch of rise toward the mid-section, or peak. This is an example of a low-slope roof that is quite common in commercial settings. Pitch or slope is important because it dictates what types of fall protection systems are appropriate for the application. Generally speaking, we have more available options (e.g., freestanding guardrail, tip over posts) with lower pitches than higher sloped roofs.
Metal Commercial Roofing Materials
Sheet metal roof systems tend to fall into two distinct categories: water-shedding/steep slope and watertight/low slope. Most commercial metal roofs are composed of panels or standing seam systems. If a tip-over post is used as part of the fall protection system, special care must be taken to ensure that the metal roof is thick enough to withstand the forces generated in the event of a fall.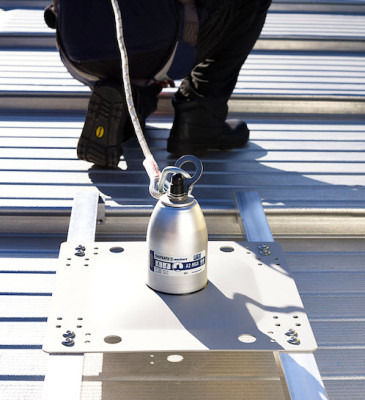 Standing Seam Metal Roof
A metal roofing product that comes in rolled form, sections are "seamed" together using a special tool that is run vertically up the panel to seal the joints and prevent leaks. Standing seam roofs are common for low-slope roofs. The image to the left shows one way we can install a tip-over style anchor on standing seam metal roofs with minimal penetrations to minimize the potential for leaks. Our non-penetrating guardrail (also known as portable guardrail) is another excellent fall protection option for standing seam roofs because we can use custom railing lengths to avoid placing a base plate in the same location as a seam.
Flat-Seam Metal Roof
Metal roofing material with or without soldered seams. Unlike a standing seam metal roof, flat-seam roofs do not have ribs that protrude above the surface of the decking material. With a flat-seam metal roof, tip-over post installation requires small holes that are flashed to prevent leaking. In cases where roof penetrations are cause for concern, we often recommend our non-penetrating rooftop guardrail (also known as LORGUARD™).
Corrugated Galvanized Steel Roof
Manufactured with wavy corrugations to resist lateral flexing and fitted with exposed fasteners. Due to the waves in the roof surface, corrugated metal roofs present additional anchorage installation challenges.
Rubber and Plastic Membrane Commercial Roofing Materials
Membrane roofing comes in large sheets that are fused at the joints to form a continuous surface. We can install horizontal lifelines and rigid track fall protection systems with minimal penetrations, but in many instances, rooftop guardrail is preferred because the base plates rest on the roof's surface, which in turn minimizes the risk of leaks. Styles of membrane roofing materials include:
Thermoset Membrane/EPDM Rubber Roof
Synthetic rubber sheets joined with contact adhesive or tape.
Thermoplastics/PVC/TPO/CSPE Roof
Plastic sheets welded using hot air to create one continuous sheet membrane.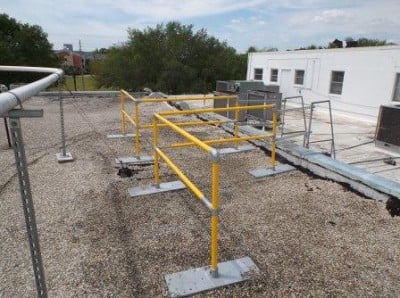 Other Commercial Roofing Materials
We can also engineer fall arrest systems requiring minimal penetrations for bituminous, built-up, and ballast roofs. If specifications call for zero penetrations, our non-penetrating rooftop guardrail is compatible and safe for use with the following roof types:

Bituminous Roof
Heat-welded, asphalt-adhered or installed with adhesive. Asphalt is mixed with polymers and then applied to a fiberglass and/or polyester mat. The seams are sealed by melting the asphalt with heat, hot mopping of asphalt, or adhesive.
Built-Up Roof
Built-up roofing (also known as tar and gravel) is one of the oldest and most economical forms of roofing. Multiple plies of salt-saturated organic felt or coated fiberglass felts are adhered with hot asphalt, coal tar pitch or adhesive. Although the built-up membrane is sometimes left bare, it is typically covered with a thick coat of waterproofing material and covered with gravel, which provides protection from UV degradation and keeps the roof system in place during periods of high winds.
Ballast Roof
While Ballast Roofs may look like a Built-Up Roof, there are significant differences, namely advantages. Because the weight of the stones are holding the roofing components in place, Ballast Roofs consist of much larger stones that are generously applied atop the membrane following the seams being sealed. Because adhesives and fasteners are eliminated, materials and installation costs are greatly reduced. The installation team has the flexibility to install Ballast in a wide range of temperature conditions that is cosmetically pleasing and can accommodate many purposes beyond typical industrial uses. Ballast Roofs can be built up in a variety of fashions, but is commonly placed on a waterproof membrane, filtering fabric, insulation, vapor barrier, and concrete layering.
Parting Thoughts
The roof of your facility is the first line of defense against snow and rain water, and as such, you may have concerns that installing a fall protection system will cause leaks. Although these fears may be well-founded, your fall protection company can formulate a plan to keep your workers safe while minimizing the potential for leaks. We have years of experience installing OSHA compliant rooftop fall protection systems on all types of roofs and welcome the opportunity to assist with your safety needs. To learn more about rooftop fall protection, or to discuss the specifics of your facility, please contact Diversified Fall Protection for further assistance.