If you have ever taken a fall protection training class or read much on the topic, you've heard references to the ABC's of personal fall protection systems: anchorage, body harness and connecting device. Sometimes folks also include the letter D, which stands for the descent and rescue component. The ABCD mnemonic is easy to remember, but its proper application can be a challenge. To make our point, let's take a look at some commonly used anchor points in the window washing industry.
Our first example, shown below is a light fixture. Common sense tells us that this is not a safe anchor point, but some unfortunate person has tied off in this manner, and chances are good, it has happened more than once.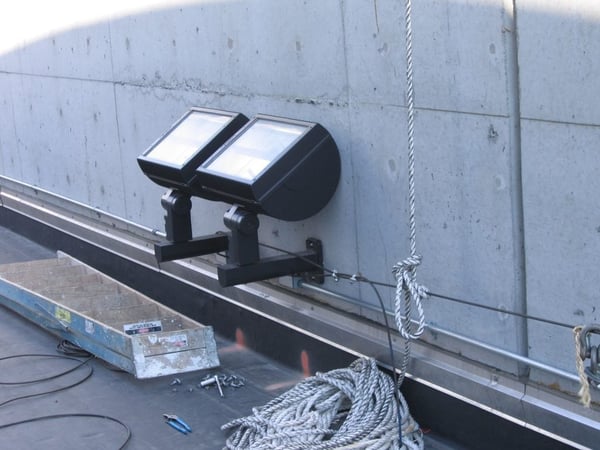 Sometimes window washing contractors are asked to tie off and work their way down a high rise connected in this manner: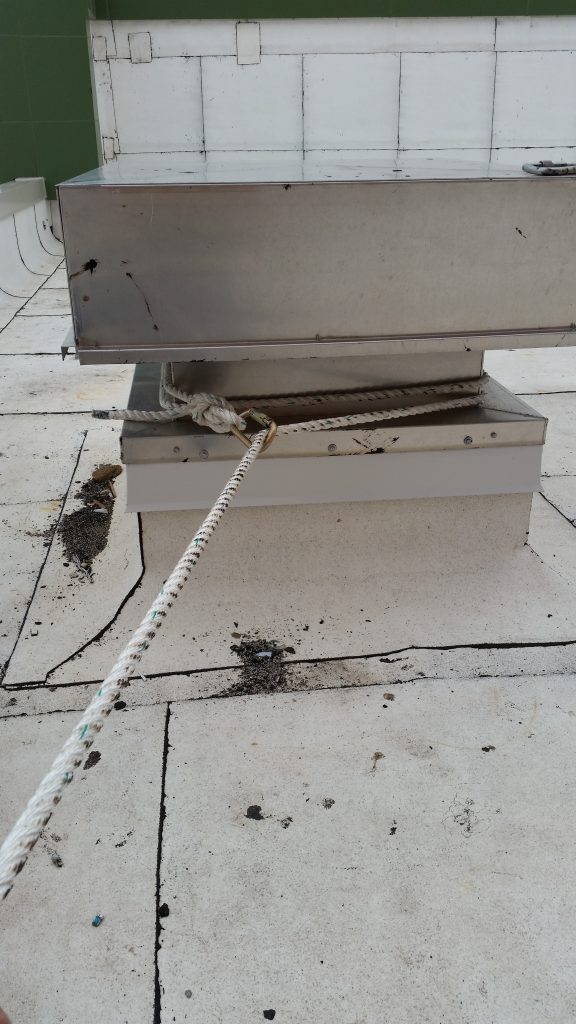 In this instance, the window washing anchor off in the distance is not in use–the ropes are connected to toilet vents…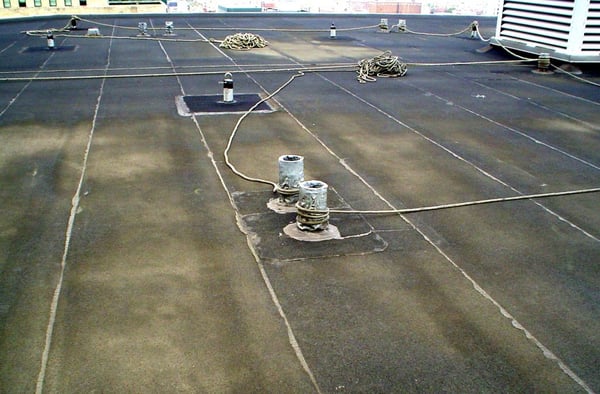 Here's another example. Would you feel safe tied off to anchors with obvious signs of corrosion?
In this example, a rope descent system is anchored to a steel frame designed to support HVAC duct work: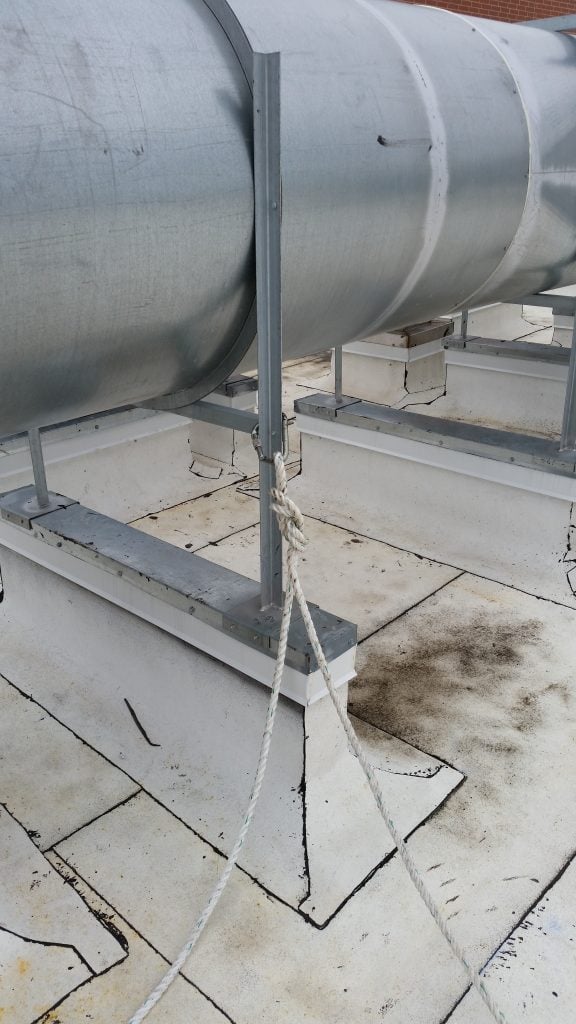 Now that we've taken a look at examples of improper anchor points, you may be wondering what OSHA has to say about anchors used for the rope descent systems utilized in the window washing industry. Here are the relevant sections:
1910.27(b)(1)
Anchorages.–
1910.27(b)(1)(i)
Before any rope descent system is used, the building owner must inform the employer, in writing that the building owner has identified, tested, certified, and maintained each anchorage so it is capable of supporting at least 5,000 pounds (268 kg), in any direction, for each employee attached. The information must be based on an annual inspection by a qualified person and certification of each anchorage by a qualified person, as necessary, and at least every 10 years.
1910.27(b)(1)(ii)
The employer must ensure that no employee uses any anchorage before the employer has obtained written information from the building owner that each anchorage meets the requirements of paragraph (b)(1)(i) of this section. The employer must keep the information for the duration of the job.
1910.27(b)(1)(iii)
The requirements in paragraphs (b)(1)(i) and (ii) of this section must be implemented no later than November 20, 2017.
Each of the anchors shown above fails the eye-test. Common sense tells you that none of these field-improvised anchors should be used. Using the OSHA regulations, these anchors fail because:
None of the anchors are capable of supporting 5,000 pounds, and;
None of the anchors have been inspected and certified by a qualified person
The buried lead story here is that a window washing contractor supplied us with these example pictures, and our colleague was asked to put his crew in harm's way by tying off to these anchor points. The good news is that he said no—the bad news is that other companies will chance fate and have their personnel use these anchors. According to our friend, Steve Ball of SBS Window Cleaning, "We see unsafe anchor points like this on a regular basis. There will always be another window washing company that will throw caution to the wind and take the job. The situation is unlikely to change until we have more accidents—and more loss of life."
Although the main point of this post has been to highlight unsafe anchorages, the placement of certified, safe RDS anchors plays a part in contractor safety too. In the photo below, we see a roof that has an overabundance of anchor points, which can form a tripping hazard: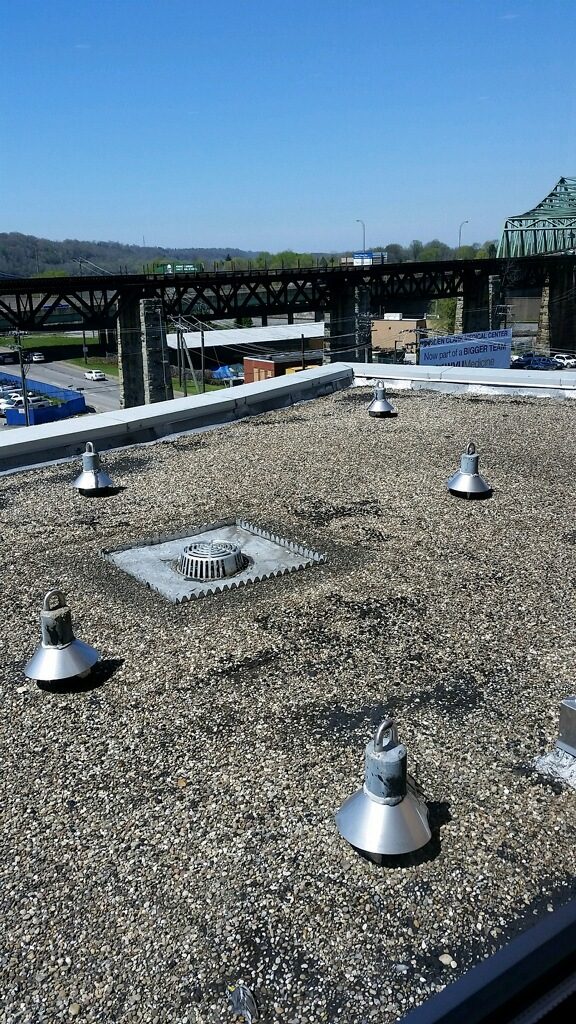 In addition to the trip hazards, this rooftop has more penetrations than needed, which increases the potential for leaks. By working with a fall protection company that understands the anchorage requirements of the window washing industry, you can limit the number of anchors (and rooftop penetrations), which in turn reduces project costs.
By focusing on a specific market segment, we've shown real world examples of poor anchor choices. The use of any of these anchor points could have dire consequences. Although this post is explores window washing, improper anchor use is not unique to a particular industry—it happens everywhere. If you have concerns about window washing anchors, anchor inspection and re-certification, or safe anchor points for other work activities performed at heights, contact the safety experts at Diversified Fall Protection.
Special thanks to Steve Ball of SBS Window Cleaning for supplying the examples used in this post. To request information about interior or exterior commercial and residential window cleaning, contact Steve at 330-287-0557.