3M Fall Protection (formerly Capital Safety) has identified a limited number of 3M™ DBI-SALA® LAD-SAF™ X2 and 3M™ DBI-SALA® LAD-SAF™ X3 sleeves with the locking lever not working properly. This condition can allow the sleeve to disengage from the cable during use. The assembly error is believed to affect only a limited number of units and has been corrected. There have been no accidents or injuries related to this issue.
If your vertical lifeline includes an X2 or X3 sleeve, immediately conduct an inspection (see below). This inspection is part of the pre-use inspection recommended for all X2 (#6160030) and X3 (#6160054) sleeves. If you find an affected sleeve, remove the component from service and contact 3M's Customer Service department at 800-328-6146 (prompt #2012) or email LADSAFNA@mmm.com to obtain a return authorization. Upon receipt of the affected sleeve, 3M will ship you a replacement sleeve within 24 hours at no charge.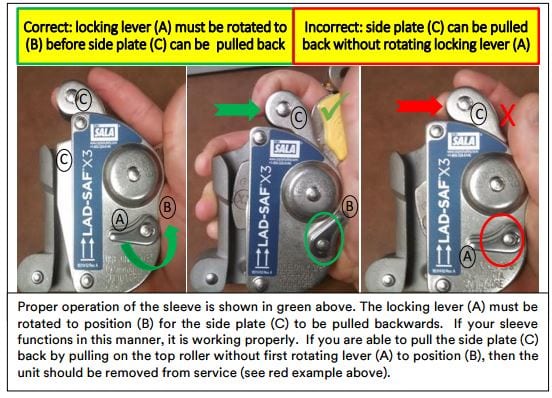 For further information on the operation and use of the Lad-Saf X2 & X3 sleeves, see consult the video below:

Please refer to the attached Inspection Notice (Link to English) (Link to Spanish). The Notice provides instructions to end-users on how to inspect their units for this condition and how to return affected sleeves for replacement. If you have additional questions regarding Lad-Saf X2 & X3 sleeves, please e-mail LADSAFNA@mmm.com.