Bulk loading operations require speed and safety. Moving thousands of gallons or tons of powder each day demands efficiency to keep production and delivery schedules on track. At the same time, testing, loading, and unloading the contents of a railcar or tanker truck is work performed at heights, so you need fall protection to comply with OSHA 1910 General Industry requirements. This post discusses loading ramps, loading racks, and access platform fall protection systems used for bulk loading / unloading operations.
Diversified offers standard and custom engineered fall protection solutions for bulk loading operations. The single spot bulk loading shown below features a hooped ramp that is raised and lowered by an electric-hydraulic power unit which is an ideal choice when both vertical and fold back movement is required. By activating the hydraulics, the EHO ramp pivots to the horizontal, then lowers to the vertical plane, creating a level work surface.
The operator pushes the control lever one way for down and the opposite direction to raise and fold the ramp. Diversified also offers manually operated loading ramps.
The double sided loading rack shown below serves as an access platform for multiple railcar tankers running on parallel tracks . Traveling gangways positioned on both sides of the rack move up and down a rail to allow for precise placement over the tanker car. Diversified offers self-adjusting gangway systems to accommodate height differences in railcars serviced from the same access platform.
The single side tanker truck loading rack shown above features a mobile, self-adjusting gangway to accommodate tanker trucks of various heights. The entire loading platform is guarded by safety gates, which allows gangway access from any point on the rack. This degree of flexibility is particularly helpful when trucks park at different points in the loading area, or when a facility loads a variety of tanker trucks with different access points.
The facility in the photograph below loads railcars on one side of the building and tanker trucks on the opposite side.
A walkway running through the silo area connects the tanker truck and railcar tanker loading areas, providing OSHA compliant access to the entire loading operation.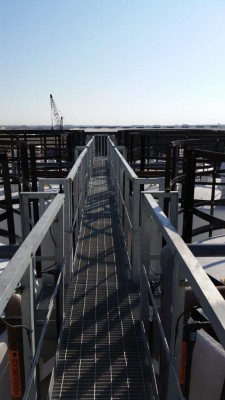 The photos below show an overhead view of the tanker car loading ramp and a ground level view of the tanker truck loading area.
Although the access platforms featured in this post draw on pre-engineered design concepts, we understand that each bulk loading operation–and each facility–is unique. In instances where a pre-engineered system won't meet your requirements, we can alter a standard design to create a customized solution.
Whether your employees need safe access to test, load, or unload the contents of a railcar or tanker truck, we have loading rack fall protection solutions that will keep your employees safe and your facility OSHA compliant. To learn more about fall protection solutions for bulk loading operations, contact the safety specialists at Diversified Fall Protection for further assistance.