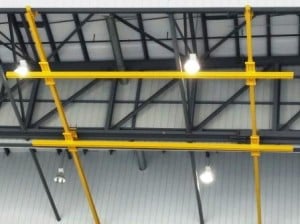 Diversified Fall Protection (DFP) is proud to announce the addition of a new track system into our already robust line of Rigid Beam and Rigid Track Fall Protection Systems.
DFP's new Modular Track System, as the name [modular] implies, increases your workers range of motion and therefore, the amount of activity they can complete as a direct result of its' engineered design. Structured to provide continuous fall protection in areas with multiple obstructions, the new Modular Track System smoothly transports your worker (hands free) without the need for the worker to un-clip themselves as they travel along the system.
A true fall arrest system, the new Modular Track System is ideal for applications where the elevated work surface is at a minimal height. Because Rigid Systems like the new Modular Track System contain very little deflection, it limits the amount of fall distance and the potential injury due to such an impact of force affecting the body.

In addition to reduced fall distances, the new Modular Track System can accommodate multiple users and collaboratively minimize the fall distance, ensuring the safety of the group. In conjunction with its ability to expand your workers' productivity through its increased range of motion by providing continuous fall protection, Diversified Fall Protection's new Modular Track System is compliant with OSHA's 1926.502(d) regulation on personal fall arrest systems and will eliminate the fall distance a worker would experience working on a typical horizontal lifeline.