OSHA has just launched a new interactive webpage that shines light on recent fines levied against employers for significant health and safety violations. The online tool uses an interactive map listing fines in excess of $40,000 on a state-by-state basis. The tool also offers additional information on each offense, including the employer cited, the city, penalty amount, and the date the penalty was issued.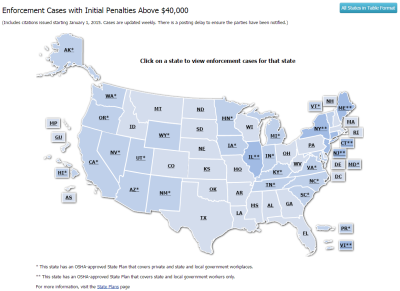 Visitors can click on each case for additional information, including the specific OSHA regulation violations. Interested parties can explore this new resource tool by clicking this link.
***********
Diversified Fall Protection designs, manufactures, and installs OSHA Compliant fall protection systems, including horizontal lifelines, rigid trolley beam fall arrest systems, vertical lifelines, and rooftop guardrail. To learn more about our turnkey approach to fall protection, please contact us for expert assistance with your safety needs.