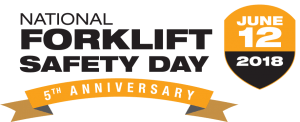 As we approach the Industrial Truck Association's National Forklift Safety Day, it is a good time to think in broad terms about loading dock safety.
Your company's loading dock can be a busy place with a lot of distractions. It is also potentially one of the most dangerous – there is staggering statistical evidence confirming the dangers at the loading dock. OSHA statistics indicate that there are roughly 85 fatalities, 35,000 serious injuries, and 95,000 overall incidents involving a forklift each year, which lead to losses of $135 million in direct costs and another $650 million in indirect costs.
Having established procedures to help "control the chaos" is the starting point to create a safer work environment. Procedures and methods can include writing and following a safe sequence of operation for forklift drivers and those entering the traffic zone, using motion-sensors, LED lights, and audible alarms to alert foot traffic.
As pointed out in a recent EHS article, "When all forms of visual and sound communication are ineffective or ignored, a physical barrier provides the ultimate safety for workers at the loading dock. The loading dock presents various opportunities for dangerous falls, including out of open dock doors."
Of course, setting up barriers to help minimize the risk of falls off the leading edge of a loading dock is one of our areas of expertise at Diversified Fall Protection.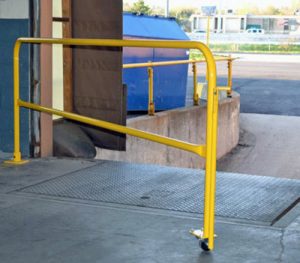 Below are several features of our own OSHA compliant loading dock safety swing gate system – LORGATE:
Tested to OSHA regulations: can withstand 200 pounds of force at the top rail (42 inches) and 150 pounds force at the mid-rail (21 inches).
6, 8, 10, and 12 foot lengths available.
Available in 184 custom colors, including standard safety yellow and hot-dipped galvanized.
Ease of use with no lift, trip, or pinch hazards.
Simple installation – sold as a kit or installation provided.
Engineered and manufactured in the United States.
As we have pointed out before, OSHA inspectors visiting your facility will be looking for any area where workers are exposed to unprotected leading edges measuring four feet or more. Loading docks are prime examples.
LORGATE loading dock safety gates keep personnel from reaching and falling from the dangerous, unguarded edge of an open loading area or other open pit. Designed for ease of use and maximum safety effectiveness, our LORGATE permits safe access into and out of the loading dock area. They will NOT, however, stop a fully loaded lift truck, so it is (as always!) important to continue to practice proper vehicle-related safety procedures around the loading dock even after a LORGATE is installed.
For any questions related to loading dock safety or the LORGATE, please don't hesitate to contact us – safety is our specialty!