When most of our clients hear the phrase portable access stair systems, their minds immediately conjure up images of the wheeled, heavy duty access stair systems used to access road and rail tankers, but what are the available options when you need something lighter and more cost-effective?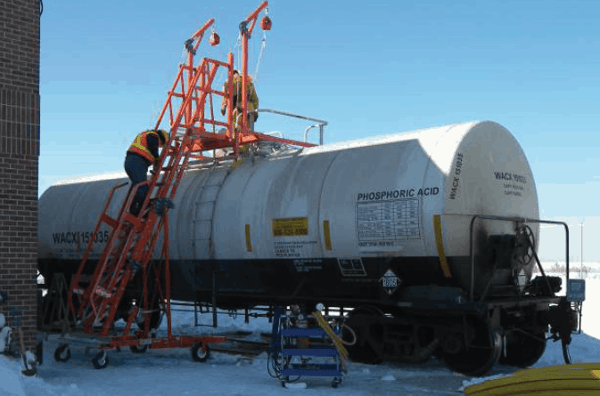 To be sure, Mobile Access Stair Systems are an ideal solution for the workers that need to access the tanker car in the photo above, but we can think of host of additional applications where this system wouldn't be practical:
Road and rail embankments
River and lake banks
Gravel pits
Excavation sites
Earth retaining walls
Mines
Construction sites
Diversified Fall Protection now offers two forms of cost-effective, light-weight, portable access stair systems: the Tuff Step Stair System, which anchors to the ground, and the freestanding Para-Stair Access System, which is ideal for construction sites. Both portable access stair systems feature strong, aluminum construction for long service life and heavy-duty thermoplastic treads that prevent the buildup of snow, ice, and mud. Both system types come with optional handrails for added safety.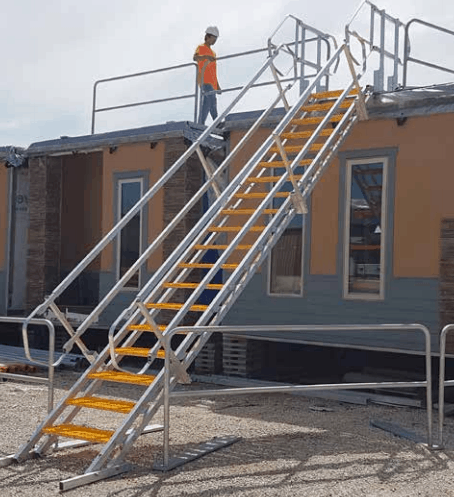 The freestanding Para-Step Portable Stair Access System is designed with treads that remain level over an operating range of 30 to 60°.
The pictures below illustrate the Tuff Step Portable Access Stair System, which anchors to the ground.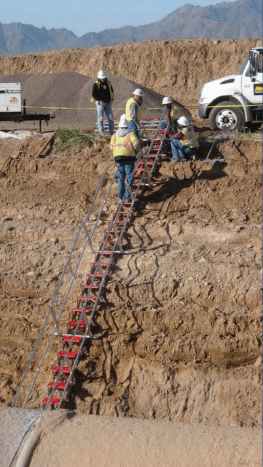 Portable Access Stair System for pit excavation application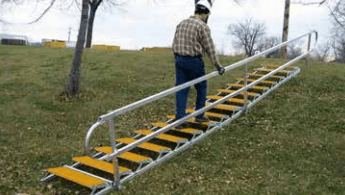 Tuff Step System with optional handrail
If you have an application that requires portable stairway access and one of our heavy duty systems doesn't seem like a viable option, contact Diversified Fall Protection and we can provide pricing information on Tuff Step and Para Step systems.