EHS managers are sometimes placed in the awkward position of balancing employee safety requirements with the company's bottom line. In short, how do we maintain worker safety in a cost effective manner? To see this balancing act play out in real life, most of us need look no further than the rooftops at our workplaces. The roof is a common location for HVAC equipment requiring periodic inspection and maintenance. Depending on the location of your HVAC installations (e.g., units placed within six feet of an unprotected leading edge), you may require some sort of fall protection to be in compliance with OSHA safety standards. In our hypothetical scenario, the HVAC system may only require inspection once or twice a year, which in turn may make investing in a permanently installed, custom engineered fall protection system seem like overkill. Given these facts, what is the best way to ensure worker safety, OSHA compliance, and a sound bottom line?
Because in this example, your maintenance staff requires only infrequent rooftop access, the best option may be portable guardrail. As the name implies, portable guardrail can be placed where and when it is needed, and when the rooftop maintenance is completed, the individuals can be quickly disassembled and stored for future use.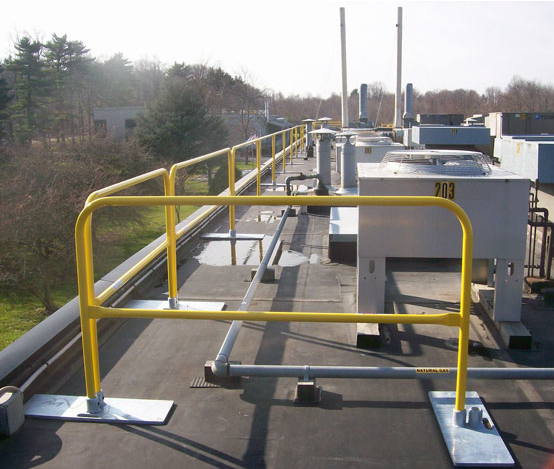 Although our portable guardrailing is often billed as a cost-effective means of providing fall protection for temporary rooftop maintenance applications, many of our clients also use PGR for permanent rooftop fall protection. Whether your rooftop application is temporary, or permanent, DFP's portable guardrail offers a number of benefits:
Free-standing, weighted bases require no drilling or permanent attachment to the roof, which reduces the likelihood of leaks.
Because PGR is up to 40% lighter than the competition, our portable guardrail minimizes rooftop loads.
Light weight base plates (58 lbs) allow for single person installation
Rugged powder coated finish for durability
Available in 6', 8. And 10' sections
Ideal for rubber membrane, EPDM, gravel, concrete, standing seam, and tar roofs
Safety swing gates, toe boards, and collapsible rail systems available
Complies with OSHA 1910.23 and 1926.502 for guardrail systems
It is important to remember that there are rooftop applications, such as steep pitched roofs where portable guardrail is not a viable option. In these cases, ensuring both worker safety and OSHA compliance may require a permanently installed, engineered fall protection system. We should also note that temporary rooftop fall protection is just one of many applications suitable for portable guardrail too. Whether your rooftop application is well-suited for portable guardrail or requires permanently installed fall protection, the safety specialists at Diversified Fall Protection can recommend a fall protection solution that meets your specific needs and budget. To learn more download our Portable Guardrail Brochure, or visit us online at www.fallprotect.com.