The return of warmer weather means additional rooftop maintenance activity. Repairing roof leaks, HVAC equipment and rooftop pipe rack systems place maintenance personnel at greater risk for falls. Each of these activities falls under OSHA 1910 (General Industry), which requires fall protection for personnel exposed to unprotected leading edges while working at elevations of four feet or more. How you choose to protect your employees engaged in rooftop maintenance activities depends on a variety of factors, including the type of maintenance work performed, frequency of access, and the size of the intended coverage area.
Rooftop fall protection can take many forms, ranging from horizontal lifeline and rigid track systems to portable and permanently installed guardrail. Our recent installation of 1,500 linear feet of portable guardrail for a client in the food processing industry is an excellent case study explaining when and where portable guardrail is an ideal solution for rooftop fall protection applications.
Our client's newly installed roof presented a number of challenges for our fall protection engineers. Although horizontal lifeline systems with tip-over post anchors are minimally invasive installations, our client did not want to make any penetrations to the rubber membrane roofing material. Minimizing roof load levels was another important consideration during the design and installation phases of this project.
Both of these requirements made a portable guardrail system an ideal solution for this application. When specifying portable guardrail for rooftop fall protections, it is important to consider the following:
How much do the base plates weigh?
Can one employee safely and efficiently place each base plate into position?
How easily do the railings install into base sections?
Is the guardrail system compatible with all roofing substrates?
Does the system comply with OSHA requirements 1910.23 and 1926.502 for guardrail systems?
As the questions above suggest, portable guardrail base design is an extremely important consideration. Portable guardrail systems may seem modular, but special care must be taken to design a base plate that is easily moved and installed. Each section of DFP's Portable Guardrail (PGR) is anchored by a 59 pound base plate, which is 53 pounds lighter than the base plates used by our competitors. This weight differential not only makes our portable guardrail systems safer and easier to install, but also significantly reduces the loads imposed on roofs. PGR systems also come with optional rubber base pads, creating a protective barrier between the mounting-base and roof itself. Minimizing direct contact between the metal base and the roofing substrate is particularly important for applications with rubber membrane roofs. Our portable guardrail systems are compatible with all roofing materials.
Each rooftop presents unique design challenges, access points, and fall hazards. For these reasons, DFP Portable Guardrail is offered in six, eight, and ten foot sections, with custom lengths available upon request. In addition to standard, powder-coated safety yellow, PGR is available in custom colors, allowing the system to blend with the building's overall color scheme. We also offer a complete line of accessories for PGR systems, including toe boards, swing gates, and collapsible rails, and our portable guardrail is fully compliant with OSHA 1910.23 and 1926.502. To learn more about portable guardrail available from Diversified Fall Protection, download our PGR Tech Bulletin which is available in PDF format here.
Each of these benefits made PGR Portable Guardrail an ideal solution to our client's rooftop fall protections requirements. Installation of 1,500 linear feet took less than one day, and as the pictures below suggest, the custom powder coating created a color scheme that blends with the color scheme of the facility.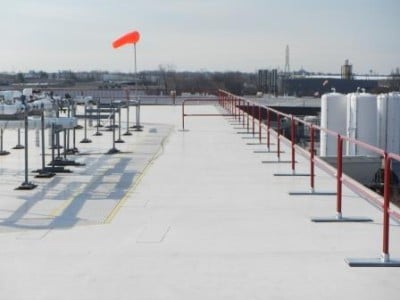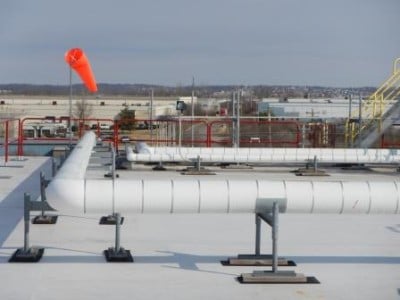 To learn more about the advantages of portable guardrail, request pricing information, or discuss your rooftop fall protection requirements, contact Diversified Fall Protection for additional information.