Our company name — Diversified Fall Protection — generally explains our niche within the worker health and safety industry. Though we are traditionally known as a resource providing fall protection for workers at height, the COVID-19 pandemic has changed life for all of us.
During the past 2 weeks, the engineering teams of DFP, and our sister company, Unistrut Service Company, have developed a rapid-deployment, temporary hospital room designed to address surging patient capacity challenges during the COVID-19 pandemic.
Unistrut Portable Hospital Rooms
One of the primary challenges our nation's hospitals are struggling with is how to expand patient capacity as COVID-19 cases continue to climb.
To address this need, our engineers have designed a portable hospital partition system using Unistrut framing channel and medical grade, flame retardant fabric walls. To increase the speed with which units can be erected, the fabric walls are secured to the framing with quick connect loop ties.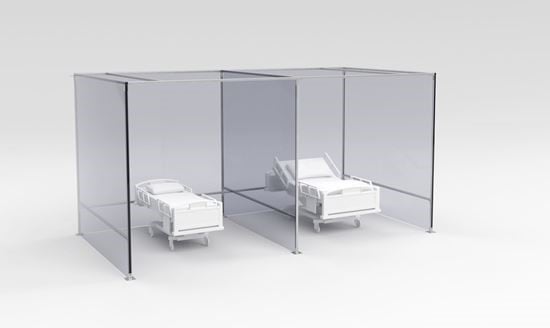 Rendering of portable hospital partition system
The finished product is an extremely affordable alternative to other portable room solutions.
The streamlined design of these portable hospital rooms makes them an ideal component of programs converting arenas, stadiums, and other open usable space within hospitals into areas that can accommodate additional hospital beds during the predicted COVID-19 surge in the United States.
Questions regarding availability and bulk pricing for the portable room solution can be addressed to our sister company, Unistrut Service Company at 440-348-9450.
PORTABLE ROOM DETAILS:
Accommodates standard 36-by-84-inch and 54-by-96-inch patient beds
Portable partition systems are modular and can be connected to each other to minimize the use of materials and create a smaller overall footprint
Walls are made from medical grade, flame retardant fabric and connect to the Unistrut frame using grommets and quick connect loop ties
Top rails are available to provide space to hang lights and supplies
Optional fittings are available for adding additional compartments
Wall Specification: Medical grade, fire retardant fabric panel
PORTABLE ROOM SPECIFICATIONS:
Interior frame length: 10′
Interior frame width: 10′
Interior Height: 9′ – 10 5/8″
Exterior frame length: 10′ – 3 3/4″
Exterior frame width: 10′ – 3 3/4″
Exterior frame height: 10′ – 1/4″
Overall length at floor bracket: 10′ – 7 5/8″
Overall width at floor bracket: 10′ – 7 5/8″
Overall height: 10′ – 1/4″