Although most folks equate fall protection with roof-mounted, cable-based horizontal lifeline systems, we design and install just as many rigid rail fall protection systems. This post addresses some frequently asked questions on rigid rail systems.
Which system is better—a horizontal lifeline or a rigid rail fall arrest system?
When comparing these systems, it is less about better and worse and more about what is the best solution for the application. Horizontal lifelines have more deflection and require more fall distance clearance than rigid systems, but in some instances (e.g., some rooftop applications), fall clearance distance isn't as important because the system can deploy and stop a fall before the worker hits the ground or objects beneath the work surface.
Rigid rail systems are ideal for fall arrest applications with limited fall clearance distance. The pictures below are case in point: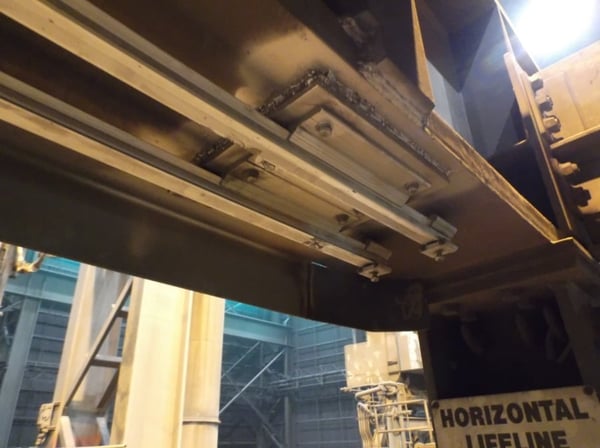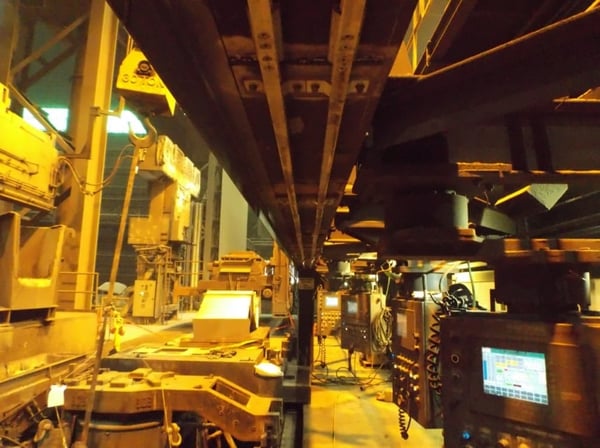 The two photos above illustrate an area where workers used to be tethered to a horizontal lifeline. During die changes in the casting pit area, workers could fall significant distances before fall arrest. In this instance, the lifeline deflection exposed workers to fall hazards and confined space hazards.
The newly installed rigid rail fall arrest system minimizes deflection, and the SRL's attached to the shuttles engage quickly, allowing a fallen worker to potentially perform a self-rescue.
A recent visitor to our website correctly noted that our Uni-Track fall arrest system is constructed from Unistrut and wondered if the system is compliant with OSHA for fall arrest systems?
In this case, OSHA compliance for fall arrest isn't based on the materials but rather on design. OSHA doesn't set parameters for the size, thickness, or material used to fabricate the track and instead chooses to focus ensuring the design of the system meets their criteria.
OSHA requirements for rigid rail systems include:
1926.502(d)(16)(ii)
limit maximum arresting force on an employee to 1,800 pounds (8 kN) when used with a body harness;
1926.502(d)(16)(iii)
be rigged such that an employee can neither free fall more than 6 feet (1.8 m), nor contact any lower level;
1926.502(d)(16)(iv)
bring an employee to a complete stop and limit maximum deceleration distance an employee travels to 3.5 feet (1.07 m); and,
1926.502(d)(16)(v)
have sufficient strength to withstand twice the potential impact energy of an employee free falling a distance of 6 feet (1.8 m), or the free fall distance permitted by the system, whichever is less.
Put another way, OSHA compliance is driven by the engineering expertise of a "qualified person." Our Uni-Track system meets or exceeds these standards, and as such, it is OSHA compliant.
Does DFP mount systems to existing structure or do you require the erection of structural steel to install a rigid rail fall arrest system?
Although the name rigid rail suggests the use of heavy I-beams and trolleys that need ample support, rigid rail systems can take many forms. Lifelines are common for rooftop applications, but instances where system concealment at ground level is a priority, low profile track systems are viable alternatives. The picture below shows a rigid track fall protection system clamp mounted (with no penetration) to a standing seam roof.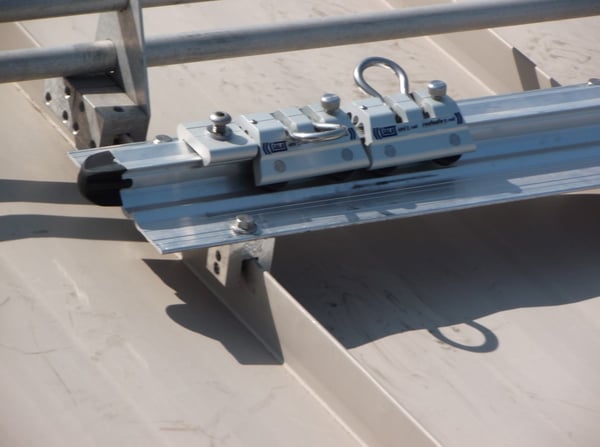 The next picture illustrates an overhead rigid rail system mounted beneath an industrial furnace. In this case, our engineers performed a structural analysis and determined mounting to existing structure provided the strength needed to support the fall arrest system.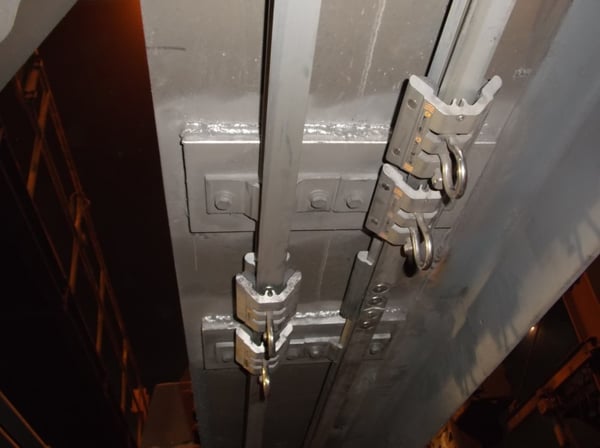 The picture below illustrates our structural steel fabrication capabilities. In this case, we mounted an I-beam to existing structure and secured a rigid track system beneath the structural steel. Again, it is important to have an engineer perform calculations to determine the strength of the existing structure. A thorough engineering review is of particular importance when tying into beams and columns found in pre-fabricated industrial and commercial buildings. In many instances, the building's structural members aren't strong enough to handle the loads associated with fall arrest.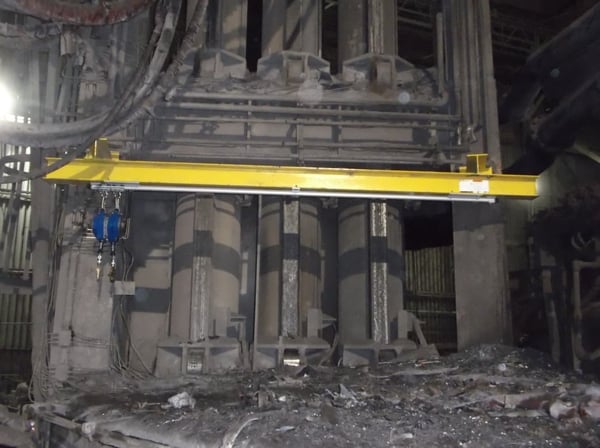 In addition to mounting a low-profile track to structural steel, some fall arrest applications call for the use of an I-beam and a trolley based shuttle as shown in the picture below. In this scenario, our installers lifted and erected 600-pound beams through a tangled web of conduit, plumbing, and HVAC ductwork. Below is an example of a rigid beam trolley system.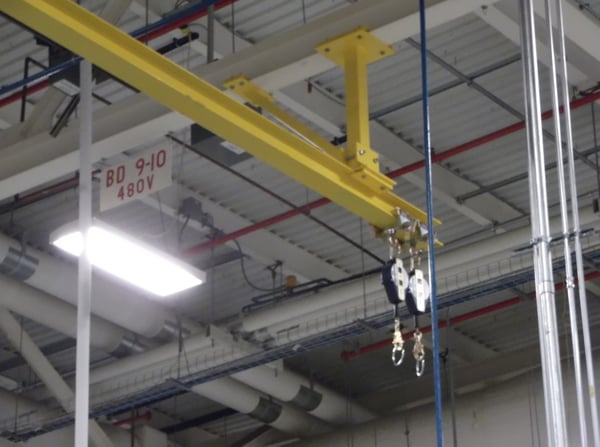 So far, the applications featured in this post involved engineered systems that are custom designed for specific applications. Our final question focuses on pre-engineered rigid rail fall arrest systems.
Does Diversified Fall Protection offer rigid rail systems for outdoor applications?
Outdoor maintenance of earth-moving equipment, buses, and aircraft pose several fall protection challenges. These activities don't always take place in a fixed location, and because they often occur outside, we don't have existing anchor points to mount a rigid rail system. Also, many of these tasks involve limited fall clearance distances, making them ideal candidates for rigid rail systems.
Diversified Fall Protection offers a complete line of portable or mobile rigid rail fall arrest systems. Pre-engineered rigid rail system can take a variety of forms and configurations to fit specific applications: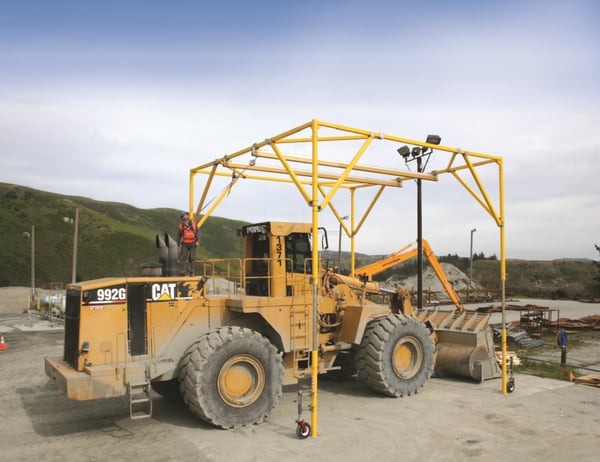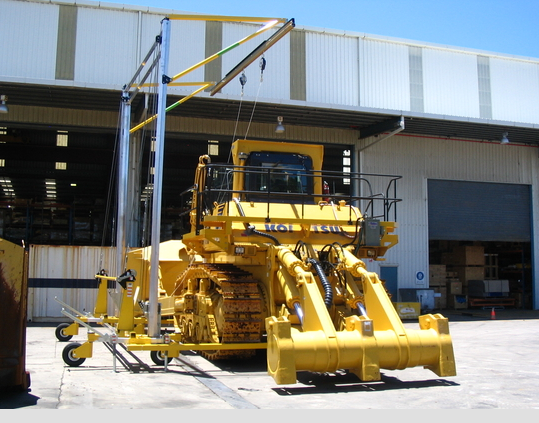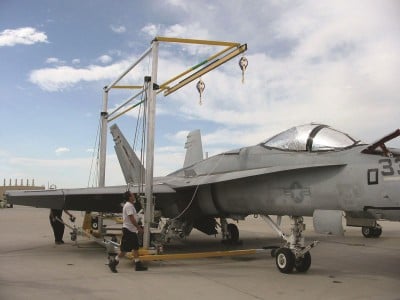 Whether your low fall clearance safety challenges are present on rooftops, inside plant production areas, or in the field, we offer engineered and pre-engineered rigid rail fall arrest systems to keep your workers safe and your facility in compliance with all OSHA regulations. To learn more about fall protection, or to request an on-site hazard assessment, contact Diversified Fall Protection for further assistance.