Anchors are an essential component of suspended access systems used for window washing and building facade maintenance. That said, there is more to protecting window washing contractors than simply installing rope descent systems and anchors. Here's why …
OSHA Window Washing Anchorage Requirements
As you may already know, OSHA's revised Walking-Working Standards require testing and certification for rope descent anchors, placing responsibility on both the building owner and the window washing contractor to ensure employee safety.
OSHA requires building owners to provide documentation to window washing contractors, speaking to their anchors' safety. To this end, the building owner must document that a qualified person has, "identified, tested, certified and maintained each anchorage so it is capable of supporting at least 5,000 pounds (2,268 kg), in any direction, for each employee attached." Building owners must also schedule annual inspections and anchor recertifications by a qualified person every ten years.
Just as building owners have obligations to ensure the safety of rope descent anchors, window washing contractors have OSHA compliance considerations as well. Employees performing the window washing may not use the rope descent system unless their employer obtains a copy of the report mentioned above. The window washing contractor must also retain this documentation for the job's duration.
These rules went into effect Nov. 20, 2017, so building owners have had three years to get up to speed on the new regulations.
Without proper testing, anchors can fail
OSHA's Walking-Working Surfaces regulations include provisions related to window washing anchors for a good reason. Without load testing and certification, rope access anchors can fail, leading to potentially catastrophic consequences.
Examples of field-tested anchor failures
Consider some common examples of field-tested anchor failures. Without proper load testing and certification, numerous problems can occur. Some concerns to note with window washing anchors include:
Inadequate or faulty welds
Reduced strength from material corrosion
Inadequately sized materials
Inadequate installation or missing components below roof level
Prior impact loads resulting in deformation
Failed or improperly installed fasteners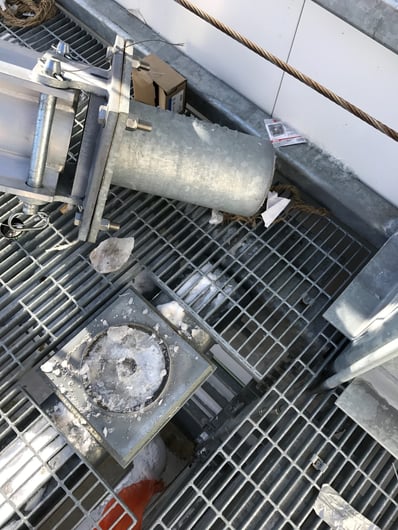 This is a good example of a faulty weld
These problems can cause injury or loss of life, in addition to expensive correction and compensation costs. Not all of these issues can be verified visually, especially with roofing systems installed above the anchor connections, which is why the system must be tested and certified at maximum 10-year intervals by a qualified person trained to identify these (and other) pitfalls.
Common Causes of Anchor Failure
Some anchor failures are due to inadequate understanding of design parameters, while others result from poor execution of a proper design. And even with quality fabrication, poor installation practices can render window washing anchors unsafe.
The installation of post-installed fasteners without proper equipment, or without complying with manufacturer instructions, will affect the effectiveness and safety.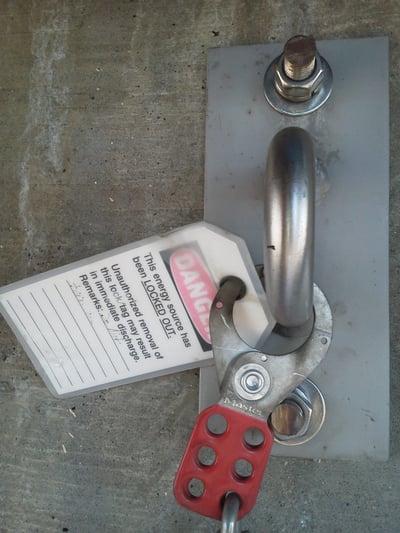 Here we have an example of a failed fastener
When welding in cold weather, improper pre-heating procedures can result in a visually adequate weld that will fail when subjected to applied loads.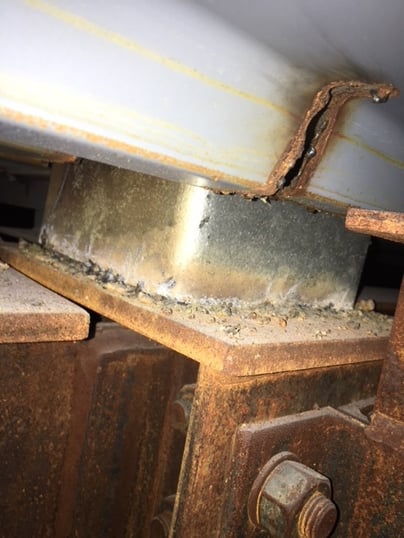 An example of an inadequate weld
Eyebolts that are only installed based on rated load along the bolt axis but not laterally won't meet OSHA requirements. Remember, eyebolts for window washing require capacity for load in any direction, not just one direction.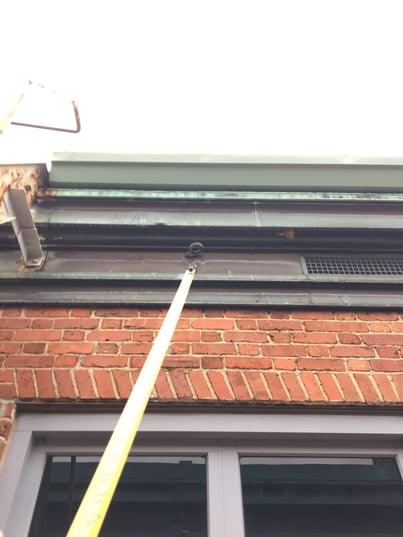 A deformed eyebolt attached to a brick building
Training is key
Properly installed, tested and certified, window washing anchors are still only as good as the training that accompanies the anchor.
Here is a real-life example of what can go wrong:
Window washers in Toronto recently experienced the abrupt failure of a window-washing platform, which plummeted hundreds of feet to the ground. The two employees narrowly avoided falling to their deaths (thanks in part to their harnesses) and were left dangling until firefighters arrived to perform the rescue.
No matter the cause of equipment failure, proper safety training is crucial to the safe and effective use of window washing anchors. Without it, suspended rope access becomes even more dangerous work. The training aspect of anchor safety is vital to bringing every worker home safely.
PEAK anchors can help
At Diversified Fall Protection, we offer a complete solution through our PEAK window washing anchors. We specialize in the design, fabrication, installation, testing and recertification of window washing anchors.
Our products are manufactured in the USA to meet and exceed OSHA regulations and ANSI standards, and Diversified backs each installed system with $10,000,000 in liability insurance. We also offer complimentary suspended access system layout assistance to construction design professionals to ensure compliance with OSHA regulations and ANSI standards while boosting window washing contractor productivity to new heights.
We are here to help with all of your window washing anchor needs, from design and fabrication to installation and recertification. To learn more about window washing anchors, contact the safety experts at Diversified Fall Protection for further assistance.