We recently received word from 3M Fall Protection (formerly Capital Safety) about a production issue with its Zorbit Energy Absorbers that creates a risk of serious injury or death for a user in the event of a fall.
Although there have been no reported accidents or injuries associated with this issue, 3M Fall Protection is voluntarily recalling a limited lot range of this product and will replace affected energy absorbers free of charge.
This Notice applies only to Zorbit Energy Absorbers with lot codes between 2101506 and 2464624 manufactured between March and August 2015. Zorbits with other lot codes are not affected by this notice and are safe to use. The location of the lot code on the Zorbit is shown by the red arrow in the photograph shown below: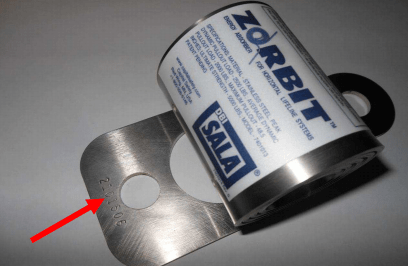 Location of a lot code on a Zorbit Energy Absorber
The part number for the affected Zorbit Energy Absorber is 7401013. This part can be sold individually or as part of one of the following off-the-shelf systems:
Sayfline™ Multi-Span Horizontal Lifeline Systems
SecuraSpan™ I-Beam Horizontal Lifeline Systems
SecuraSpan Pour-in-Place Horizontal Lifeline Systems
Before next use of your horizontal lifeline system, inspect the system to determine if you have an affected Zorbit (as described above). If your system contains a recalled Zorbit, please lock the system out and contact 3M's Customer Service department at 800-328-6146 (prompt #2012) or email ZORBITSNA@mmm.com for a replacement Zorbit Retrofit Kit #7401022. The replacement kit is free of charge and will be ship freight-free within 24 hours.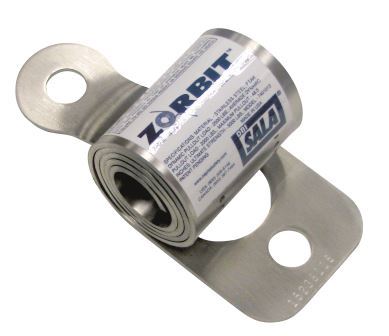 We are posting information on the voluntary 3M recall for a number of reasons. For starters, few of our engineered systems include Zorbits (and none are affected by the recall), but some of our Tech Talk readers may have self-performed the installation of Sayfline or SecuraSpan HLL's and we want to make sure your employees are safe. What's more, in many instances, folks who self-perform installations using off-the-shelf solutions don't properly account for fall clearance distance. At max tear out, a horizontal lifeline that uses a Zorbit experiences over 24′ of deflection. For applications with low fall clearance distance, this additional deflection can cause a falling worker to impact equipment below, or ground level.
The cautionary comments above are not intended to suggest that every off-the-shelf solution is inherently unsafe, but rather, we are suggesting your work area may require an application specific, engineered fall protection system. The best person to make this determination is a fall protection specialist.
If you have questions about an existing, self-installed fall protection system or the voluntary Zorbit recall, contact Diversified Fall Protection for further assistance.