This year, from the 2nd to the 6th of May, the Occupational Safety & Health Administration (OSHA) will be conducting its 9th annual National Safety Stand-Down to Prevent Falls in Construction. The stand-down is a voluntary event and a chance for employers to speak with their employees about safety and raise awareness of the dangers of falls.
Why was the stand-down started?
Falls from elevation are the leading cause of preventable death among construction workers in the United States. According to the U.S. Bureau of Labor Statistics, falls from height seriously injure ten thousand workers each year, and in 2020 alone, 351 people lost their lives due to falls in construction. The stand-down began in 2012 to combat those numbers.
What is the goal of the OSHA stand-down?
Falls from ladders, scaffolds, and roofs are the most likely to result in severe injury or death in the construction industry. The objective of the stand-down is to prevent falls in construction by raising awareness of these hazards and more. Another purpose is to encourage employers to refocus their attention on fall safety. To remind them of their responsibility to provide their employees with the right equipment, train them to use it properly, and create plans to work safely from heights.
Provide the right equipment: Providing fall protection is every employer's responsibility, and unfortunately, there is no one-size-fits-all solution. Instead, each job has unique circumstances requiring specific fall protection equipment.
For example, a nylon lanyard might not suit leading-edge work as the sharp edge could sever the l
anyard. Likewise, fall protection that you used on a sloped roof might not work on the next job when you're in a mobile elevated work platform. Every job is different, and it's the employer's responsibility to provide the correct equipment for each application.
Provide training: Untrained workers often choose incorrect anchor points, select the wrong connecting device, or wear a harness that doesn't fit. Unfortunately, these common mistakes can result in severe injury or death in the event of a fall.
Employers must train workers exposed to falls to identify fall hazards and ways to minimize the risk. This training should include a discussion of the specific fall hazards that affect them and how to select, inspect, and use fall protection. Also, retrain employees as conditions change and when introducing new equipment.
Plan the job: Planning the steps required to complete a task safely is essential for any job. It allows you to identify who will be involved, their responsibility and training, and the safety equipment needed. When there isn't time or money, people often cut corners, resulting in injury. Planning gives you time to collect the right tools and equipment and work their cost into the budget.
An example could be a job where you need to replace lighting in a high ceiling. Workers without the proper equipment might develop field-built solutions to access the lights on a poorly planned job. On the other hand, a well-planned job would have the budget and availability of a scaffold or scissor lift so workers can access the lights safely.
Bui

lding awareness amongst at-risk groups
Another objective for this year's stand-down is to raise awareness about the danger of falls among Hispanic and Latino construction workers. According to the Bureau of Labor Statistics, Hispanic and Latino workers in the United States are statistically more likely to be killed or injured at work than other groups in the same field.
For example, total fatal work injuries dropped by 10.7 in 2020. In contrast, fatal work injuries amongst Hispanic and Latino workers only fell by 1.5 percent. Also, fatality rates amongst the group have risen in construction, while total fatality rates in the industry have declined.
Increasing awareness of the dangers of falls amongst all workers, but especially at-risk groups, is essential. These statistics are troubling and give insight into why OSHA has made it another focus for this year's stand-down.
How to participate
To participate in this year's National Safety Stand-Down, dedicate a chunk of time to gather together and discuss fall hazards. It's a chance to discuss general fall safety and specific safety risks that affect your worksite.
A stand-down shouldn't be a lecture; instead, it should be a conversation. A benefit of this approach is that unnoticed hazards often come to light when people start talking about safety in a collaborative setting. You can also make your stand-down more interactive by splitting into groups and doing a site audit or inspecting fall protection equipment. You could also create fall protection scenarios and ask the group to develop ideas for doing them safely.
OSHA's National Safety Stand-Down to Prevent Falls isn't only for those in the construction industry. Anyone interested in creating a safer work environment can participate. So even if your employees are not exposed to fall hazards, you can still take part by coming together to discuss the dangers that affect your people.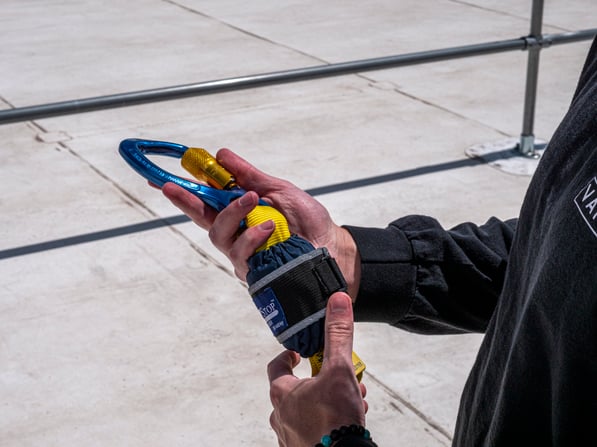 A worker inspects his lanyard before using it
How Diversified Fall Protection can help
OSHA's goal is to raise awareness and encourage organizations to take proactive steps to prevent workplace falls. The message is clear, but making fundamental changes to a company's safety is easier said than done. However, the experts at Diversified Fall Protection can help you take the first step towards a safer workplace with their on-site or virtual fall hazard assessments.
Designing and deploying a fall protection system is complex, and mistakes among the untrained are common. Unfortunately, when the stakes are as high as they are with falls, sometimes those mistakes end in tragedy. Partnering with a trusted advisor reduces the likelihood of errors and lowers the risk to your employees and your business.
Diversified's deep fall protection knowledge and experience in many industries and applications make them the best fit to assess your fall protection needs. With fall protection being one of OSHA's most frequently cited violations, now is a great time to get your fall protection in order. So let the experts at Diversified Fall Protection alleviate your fall protection headache, contact us today.
Download a free PPE pre-use inspection checklist to help with the stand down
Diversified Fall Protection has put together a free PPE checklist to be used to ensure that fall protection PPE is in good working condition and is donned correctly before use.