Portable Fall Arrest Anchor Point Systems
The Diversified by Tuff Built Mobile Anchor Point offers portable fall protection at fraction of the cost of competing systems. The OSHA compliant Pro-3 mobile anchor point comes in fixed height configurations and offers portable fall protection that sets up in minutes. If you have a work application that lacks overhead structure, simply wheel the Pro-3 into position and your workers are protected.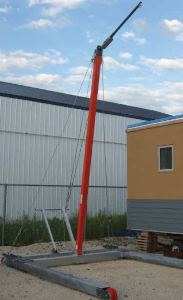 Please Note: The tables below illustrate standard stock sizes/configurations, but if your application requires modifications to an existing design, contact us to discuss your specific needs.
We are a complete turnkey provider of OSHA compliant portable and mobile fall arrest systems and have years of design and installation experience. Contact us for expert assistance with your fall arrest, fall restraint and fall protection safety requirements.
Stock Design Configurations
*SXS Pro-3 Mobile Anchor Fall Arrest Systems - Fixed Height
Part Number
Inside Width
Anchor Height
Overall Height
Length
Overall Width
# of Anchors
70039
9'
16'-3"
16'-7 ½"
13'-9 ¾"
10'-2"
1
70035
9'
18'-2"
18'-7"
13'-9 ¾"
10'-2"
1
70040
9'
19'-9"
20'-1"
13'-9 ¾"
10'-2"
1
70041
9'
21'-11 ¾"
22'-4 ½"
13'-9 ¾"
10'-2"
1
70031
9'
23'-8 ¼"
24'-1"
13'-9 ¾"
10'-2"
1
*Custom Pro-3 Mobile Anchor Point Configurations Available Upon Request
Personal Fall Arrest Systems

1926.502(d)(16) Personal fall arrest systems, when stopping a fall, shall:
1926.502(d)(16)(ii) limit maximum arresting force on an employee to 1,800 pounds (8 kN) when used with a body harness;
1926.502(d)(16)(iii) be rigged such that an employee can neither free fall more than 6 feet (1.8 m), nor contact any lower level;
1926.502(d)(16)(iv) bring an employee to a complete stop and limit maximum deceleration distance an employee travels to 3.5 feet (1.07 m); and,
1926.502(d)(16)(v) have sufficient strength to withstand twice the potential impact energy of an employee free falling a distance of 6 feet (1.8 m), or the free fall distance permitted by the system, whichever is less.
Talk to a fall protection specialist
Tell us about your fall protection needs, and we'll configure a system that rises to your challenges.