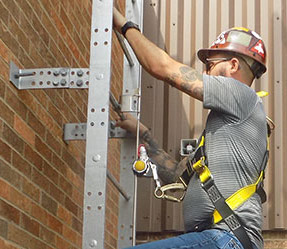 EHS and facility managers who buy safety equipment and systems want to save money whenever they can. So, whether they are shopping for rooftop guardrail, a horizontal lifeline or a wall-mounted access ladder, they want to secure the best price.
Taking a moment to examine the total, installed cost, however, may be quite revealing when the safety item is a roof access ladder. Because part of your total cost is labor required to permanently mount a fixed-in-place access ladder, any in-field alterations or installation complications can drive costs significantly higher than expected.
OSHA Regulations Drive Correct Mounting
Seven inches – that's the magic number. Your ladder MUST be mounted so that there is at least 7 inches of clear space (to allow for a climber's feet) between the back of the ladder and the building OR ANY OBSTRUCTION ON THE BUILDING. Pay particular attention to that last part.
To align with the 7" OSHA distance requirement, ladder manufacturers weld stand-off mounting brackets exactly 7 inches from the ladder rail.
In the real world, whether a fixed access ladder will be mounted to a tank wall, exterior of a building, or an interior passageway under a roof hatch, there are likely to be physical obstructions that can't be moved. Ducts, wiring raceways, junction boxes and the like don't necessarily make themselves apparent until an ironworker mounting a ladder needs to make in-field adjustments to provide the needed 7" of clear space behind the ladder rungs.
In-field Adjustments Cost Time and Money
Until Diversified Fall Protection introduced the EZ Series Ladders – believe-it-or-not – the "solution" to clearing these obstructions, was to cut off the stand-off mounting hardware, fabricate new, longer mounting attachments and weld those to the ladder in the field. Not only wasteful, this takes an installer a significant amount of time; that time costs the project owner money.