Diversified Fall Protection attended the American Society of Safety Engineers (ASSE) Safety Show 2014 in Orlando Florida – the foremost trade show for Environmental, Safety, and Health Professionals to interact with thousands of safety specialists from wide-ranging industries with the same goal: to ensure the American workforce is working safely and working safely within safety regulations.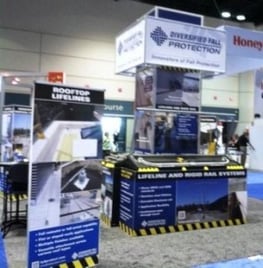 At the core of Diversified Fall Protection (DFP) is our commitment to those we serve of keeping you safe and keeping you operating within regulation. This commitment was echoed at the Exhibitor Booth throughout the ASSE Safety Show as Matt Pittner, DFP's Regional Manager of Engineered Fall Protection Systems with headquarters in Westlake Ohio and locations in Charlotte North Carolina and Houston Texas was determined to establish an interactive Exhibitor platform of education and design perspective. Illustrating this commitment in easy-to-use examples of DFP's Single Point Anchors, Rigid Systems, and Rooftop Fall Protection Systems, thousands of Attendees explored our sampled Fall Protection Systems while discussing their own stories and experiences with Fall Protection Providers.
Continuing that enlightened experience, Matt Pittner has the following recommendations to consider when choosing a Fall Protection Provider (Company):
What is the company's experience in your industry with the specific application requesting?
Will the company assume liability of the application installing/installed?
As required by OSHA regulation 1910.66(g)(2)(i)/(ii), will the company provide application-specific engineering drawings?
For further details, checkout our White Paper on Choosing the Right Fall Protection Provider. And remember, DFP also offers engineered solutions (otherwise customized fall protection systems) that far outreach the typical systems organizations and regulatory bodies recommend – where we'll keep you safe and we will keep you operating within regulation.
About the American Society of Safety Engineers (ASSE)
Founded in 1911, the American Society of Safety Engineers (ASSE) is the world's oldest professional safety society. ASSE promotes the expertise, leadership and commitment of its members, while providing them with professional development, advocacy and standards development. It also sets the occupational safety, health and environmental community's standards for excellence and ethics.