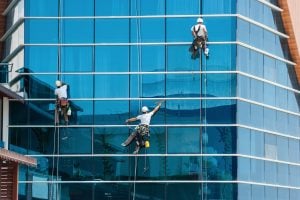 Much confusion exists over the OSHA regulations pertaining to Rope Descent Systems (RDS) and Industrial Rope Access Systems (IRAS) used for high rise façade maintenance and window washing applications. OSHA's recently updated 1910 Subpart D standard includes specific language to ensure window washing safety when rope descent systems are used and requires the building owner to provide written assurances to the window washing contractor as outlined in 1910.27(b).
These assurances document the capacity of the anchorage system used to support window washing operations and safeguard employees working at height. But because the new OSHA regulations speak specifically to the certified anchorage requirement for rope descent systems while making clear these provisions do not apply to industrial rope access or suspended scaffolds, what are the responsibilities of building owners when a window washing application requires an alternative means of suspended access?
It may be helpful to first make distinctions between "Industrial Rope Access" (IRA) and "Rope Descent Systems" (RDS). Because both systems can function in descent while using similar components, in some instances use of the systems may appear virtually identical.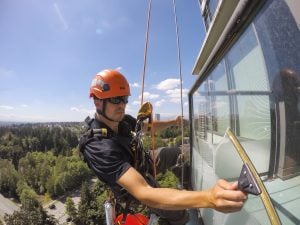 Difference between IRA and RDS
Typically used for applications that are difficult to access using more conventional means, IRA allows the user to ascend, descend and traverse ropes horizontally while suspended. By comparison, rope descent systems typically operate only in the down direction, meaning the user can descend but cannot ascend or move horizontally.
Both systems require dual ropes, a "primary" which suspends the worker and a "secondary" which functions as a safety in the event of primary line failure. For both RDS and IRA systems, each of the two ropes must be connected to independent anchorage points, ensuring total system redundancy.
Another important difference between IRA and RDS systems involves the maximum safe working height.
IRA systems have no over-arching height restrictions however, this type of rope access work is done by certified technicians with more rigorous training requirements than those specified for safe and compliant use of RDS.
RDS cannot be used at heights above 300 feet unless the employer demonstrates that is not feasible to access heights above 300 feet by other means, or when other means pose a greater hazard than RDS, per OSHA 1910.27 (b)(2)(i).
Interpretation Requested by International Window Cleaning Association (IWCA)
In a request for interpretation letter dated February 1 of 2018 to OSHA, the International Window Cleaning Association (IWCA) acknowledges "if an industrial rope access system is used at a building in a manner which allows a worker to descend in a controlled manner and as needed, stop at any point during the descent to perform work, then it is being used as a rope descent system as defined by OSHA in CFR 1910.21." The IWCA requested clarification regarding the intention of the 1910.27 requirements and if they apply when an industrial rope access system is being used to perform work in the same manner that a rope descending system would be used. OSHA has not yet issued an interpretation as of this writing, but building owners and window washing contractors can reference industry standards for applicable guidance in the interim.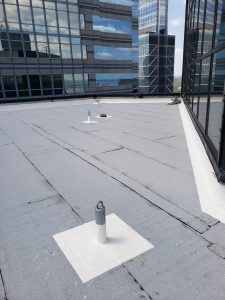 Requirements Vary Based on Worker-Specific Training
First, qualification levels for industrial rope access workers far exceed minimum rope descent system training requirements and at least one member of each operating rope access team must be a Level 3 trained worker in accordance with the ASTM E2505-07 standard. The documented training of the workers by an industry group such as the Society of Professional Rope Access Technicians (SPRAT) may in some cases be the only differentiating factor in making a determination as to which system is in use, RDS or IRA.
Although excluded from 1910.27, OSHA does provide general guidance on industrial rope access in 1910.140 which directs employers regarding performance, care, and use criteria for all personal fall protection systems. Requirements again outline the need for dual anchorages and lifelines when employees are suspended, as well as 5,000 lbs anchor capacity, or as designed, installed, and used under the supervision of a qualified person. It is important to note a qualified person is responsible for not just for supervising system use, but also system design and installation. Because building façade access anchorages are permanent building fixtures, the design and installation of anchorages that support rope access should be directed by the building owner's designated qualified person and/or be capable of supporting at least 5,000 lbs.
Because OSHA does require anchorages to support both industrial rope access and rope descent systems, building owners must ensure OSHA compliant anchorage points are available for use prior to window washing service. As a protection against liability in the event of system misuse or failure, a qualified fall protection engineering firm can conduct testing and provide certifications for record.
OSHA Compliant Access When Using Portable Rigging Equipment
The use of portable rigging equipment such as outrigger beams, cornice hooks, rolling rigs and similar devices do not function as a replacement for proper anchorage capacity or placement. The OSHA 1910 Subpart D is a standard for General Industry to include façade maintenance, but directly references OSHA 1926 Subpart L, a standard that outlines general requirements for scaffolds. Accordingly, "Outrigger beams which are not stabilized by bolts or other direct connections to the floor or roof deck shall be secured by tiebacks."
Proper placement of tiebacks used to secure portable rigging equipment is critical as the tieback is truly functional only if located such that it is inline with the equipment and OSHA directs "single tiebacks installed at an angle are prohibited". Portable rigging equipment may be used, but only when directly connected to the roof deck or when tied back to compliant anchorage points.
Parting Thoughts
The updated OSHA 1910 Subpart D standard provides definitive guidance not just for use of rope descent systems, but for all façade access methods. When fall protection systems are employed to support façade access, the proper design and installation of a supporting anchorage system is a mandatory requirement. Permanent building anchorages must be used to support personnel even when portable rigging equipment is used. Because these anchorages are a permanent building fixture, the building owner must ensure compliance to avoid associated liability. The integration of a qualified firm with general liability insurance specific to façade access design can relieve the building owner of liability associated with certification and ongoing system inspections.
To learn more about OSHA requirements for suspended access window washing or to discuss the specifics of your application, contact the safety specialists at Diversified Fall Protection for further assistance.
Sources