This month's featured installation, a rooftop horizontal lifeline system with tip over posts for a major university in New England, illustrates the importance of fall protection specifications and the value of clear and effective communication between your fall protection company, architect, and general contractor.
Know the OSHA Fall Protection Requirements
In the past, maintenance staff periodically accessed this building's roof to inspect for potential leaks and to service HVAC equipment without using fall protection. Unfortunately, this is a fairly common occurrence because many clients assume their personnel are safe as long as they remain at least six feet away from the unprotected leading edges of the roof. It is important to note the preamble to 29 CFR 1926, Subpart M where OSHA clearly states there is no safe distance from an unprotected leading edge that renders fall protection unnecessary. The installation of a new, rubber membrane roof with built up insulation presented a prime opportunity to install three new horizontal lifelines to both protect maintenance personnel from falls and bring the building into compliance with OSHA fall protection requirements (OSHA 1926.501(a)(1), which states it is the responsibility of the employer to provide proper fall protection to all workers who are exposed to fall hazards).
Why Fall Protection System Specification Matters
During our reviews of the drawings, we learned that the architect was favoring the installation of a rigid post design. In many instances, architects view mechanical attachment of a rigid post system to structural steel below the roof deck as the safest and easiest way to implement a 5,000 lb. anchorage connection. What many architects don't realize is that rigid post systems require large holes in the roof deck—creating areas prone to leaks—and that an engineered system per OSHA – 1910.66(c)(10) rated at two times the applied load in the event of a fall is OSHA compliant. In this particular case, we were able to explain the benefits of tip-over anchors versus rigid post systems and design changes were made to the specifications before the project went out for bid. Since the specs were so crystal clear, the GC's bidding the job understood our client's fall protection requirements, which in turn simplified the bid review process. The end result of these simple steps was a collection of quotes that made it easy to do an apples-to-apples comparison.
Installation and The Finished Product
Effective communication that begins during the design and specification stage needs to continue during installation. To this end, we coordinated with the roofing company to ensure that they could flash the posts after the install to prevent any roof leaks. The finished product is a series of horizontal lifelines ranging in length from 80' to 350' The new HLL systems are rated for three users and feature continuous pass capability, allowing workers to move through multiple spans of the HLL system with 100% tie-off at all times.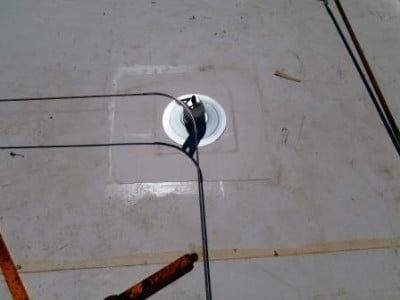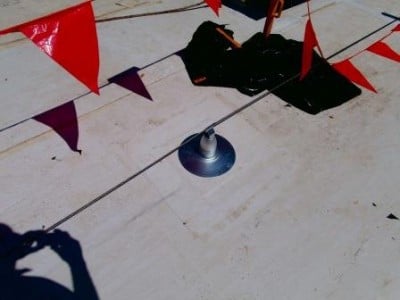 Are you looking for additional strategies to better communicate your fall protection needs with architects and general contractors or in need of fall protection system specification? Although navigating through the maze of OSHA fall protection requirements and effectively communicating with your architect and GC may seem like daunting tasks, these steps are critical to ensure the safety of both your facility and your valued employees. Keeping your employees safe while working at heights requires a plan of attack, engineering know-how, and effective communication with all parties involved to ensure flawless installation of your fall protection system. To learn more about our turnkey approach to fall protection, visit us online at www.fallprotect.com or download our white paper on selecting a fall protection company.