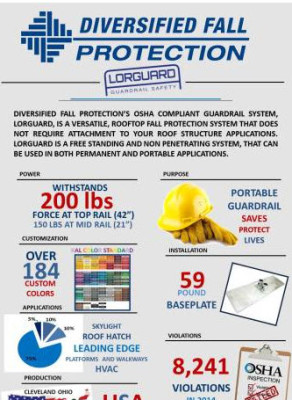 At Diversified Fall Protection, we are committed to teaching our clients about important ways to mitigate rooftop and loading dock falls in their facilities. We teach via in-person visits, through our websites (www.FallProtect.com and www.PortableGuardRail.com), video, and a variety of printed materials.
Although many of our clients associate the DFP brand with custom-engineered fall protection systems, we also offer a line of pre-engineered, OSHA compliant fall protection solutions designed for rooftop and loading dock applications. LORGUARD is a non-penetrating, free standing rooftop guardrail system that is designed both for temporary and permanent application. Diversified Fall Protection also offers LORGATE, a rolling loading dock safety gate that protects the leading edges found in shipping and receiving areas. We just released four new pieces of literature describing the uses and benefits of these innovative fall protection systems:
Each of these pieces is in a PDF format that allows users to save the information to their computers or print the deliverables out for later reference. For pricing information, or to place a LORGUARD or LORGATE purchase online, please visit our e-commerce enabled website, www.PortableGuardRail.com.