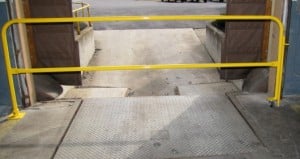 The DFP loading dock rolling safety gate is an improved gate system with the pivot side anchored and the movable side fitted with a rolling wheel to eliminate lifting of the gate. It provides total accessibility to the dock opening. A dock worker or delivery person can easily move this OSHA compliant gate for complete access to the overhead door and truck opening. When finished and ready to move, the gate is rolled to the locked and protected location. The DFP loading dock safety gate provides cost effective protection to stop serious accidents.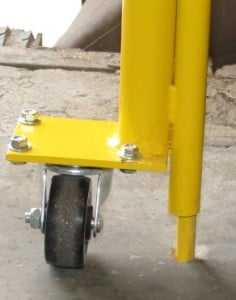 Applications:
Any dock area that requires fall protection
Fits all docks including concrete, lift, and ramp
Specifications:
8′ and 10′ sizes to fit standard dock doors
Available custom sizes to fit any situation
8' and 10' sizes to fit standard dock doors
Tested to OSHA regulations
200# top rail 42" and 150# mid rail 21"
Features:
Safety yellow powder coating for long life protection
Galvanized and additional colors available
Manufactured in the USA
In stock for immediate shipment
Shipped packaged with hardware and anchors.
Also available with Hilti 3/8" and 3/4" Masonry drills
Installation avalable at extra cost
To learn more about this innovative approach to loading dock fall protection, or to request pricing, contact Diversified Fall Protection for more information.