Oil and gas extraction and drilling platform sites present some of the most challenging work conditions found around the world. Because fall risks abound, DFP maintains a high profile, mitigating risk providing fall protection in the oil and gas industry.
A recent article in Occupational Health & Safety by Karen D. Hamel, CSP, a regulatory compliance professional and technical writer for New Pig highlighted an interesting and alarming fact:
According to the article, while the types of workplace accidents remain consistent with other industries, the death rate for workers in the oil and gas industry from those same accidents is 7 times the average.
Author Hamel points out that based on the dynamic nature of work, particularly as derrick rigs are assembled or disassembled, "…risks may change from hour-to-hour, day-to-day or week-to-week. Keeping plans and procedures updated and communicating changes with employees are keys to making everyone aware of hazards so that they are better prepared to avoid them and prevent incidents."
Fall Protection & Fall Arrest Systems for the Oil, Gas Extraction and Refinery Industry
The extraction and refining portions of the petrochemical industry require safe access to many difficult to reach exposed areas of an offshore drilling rig.
Most drilling rigs, whether based on land or offshore, are mobile. These structures can be disassembled and then moved from location to location quickly and efficiently. Drilling rigs often work in hostile environments – extreme deserts heat, Arctic cold or incredibly deep water, so when you add the elements with working at height–rig work is dangerous work. With proper precautions and planning, the fall hazards present on a drilling rig can be mitigated so everyone goes home safely at the end of their shift.
Fall Protection Solutions for the Oil and Gas Industry
An important, and sometimes missing component to providing a safer work environment can be the simple act of preventing access to unsafe areas. Passive fall protection systems such as guardrail and swing gates are two simple restraint items that can prevent falls.
Diversified Fall Protection is proud to have reengineered the ubiquitous fixed access ladder. Our EZ Series ladders allow for simple, modular in-field stand-off adjustments at time of installation to provide safer, easier to install access for up to 100 feet. The EZ Series extra wide design makes the mandatory use of vertical lifelines (over 24 feet between surfaces) easier to install and more climber-friendly to use.
Training and Drills are Key
Hazardous areas atop open structures always present a potentially dangerous work environment. Even if safety equipment is properly designed, installed and maintained, injuries and fatalities can still occur if workers do not understand the safety devices or interact with those systems incorrectly.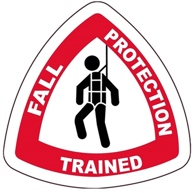 In the article cited earlier, research indicated that of all the fall deaths examined, 86% of those workers who died were using fall protection equipment. However, in 63% of cases using a harness, the harness wasn't attached or anchored to anything. Three percent of the cases involved a worker wearing the harness incorrectly.
With the intense workloads and fast pace found on oil drilling sites, accidents are more likely to occur. While we strive to prevent falls through proper engineering and training, the most important preventative actions make certain that fall protection equipment is completely functional and that workers know what to do in the event they, or another worker do fall.
The starting point to improve safety is clearly marking areas that have potential for fall hazards. Posting safe operating procedures for all fall protection equipment and systems and strictly adhering to lockout/tagout procedures before employees and other visitors to your facility can access these areas helps to keep people safe.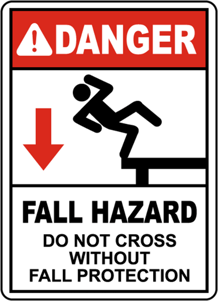 Supplying fully functional fall protection gear including ladders equipped with vertical lifelines and personal protective equipment like safety harnesses and appropriate training on harness use and fall protection is always the job of the company or contractor.
Having a Partner Helps Manage Risk and Safety
Diversified Fall Protection's approach to fall protection ensures worker safety, OSHA compliance and ultimately transfers the risk from your company to ours. Working together, DFP and our partnering clients formulate a comprehensive fall prevention strategy that takes into consideration your production processes and unique access points to provide the proper mix of fall protection, descent and rescue equipment, and personnel training to keep your employees safe and your operations in compliance with all OSHA fall protection regulations. To learn more about fall protection solutions for the oil and gas industry, contact the safety experts at Diversified Fall Protection for further assistance.