Excluding passive forms of fall protection like our rooftop guardrail system, every fall arrest system includes four basic components: Anchorage, Body harness, Connecting device, and a means of Descent/rescue. Many safety equipment manufacturers refer to these components as the ABCD's of fall protection. The concept is simple to remember, but what happens when you are working on equipment outside? Better yet, how do you account for proper anchorage while working inside if the location of your designated maintenance area constant changes? As a best practice, we recommend positioning the anchor point as high overhead over head as possible to reduce the chances ground impact before the fall arrest system engages. That said, how do you utilize an overhead anchor point outside while working on an airplane, a truck, or a large piece of earth moving equipment just to name a few? Vacuum based single point anchors are an option in some scenarios, but again, the goal is to place the anchor point overhead rather than at foot level.
If you think carefully about the maintenance scenarios mentioned above, they all share some common themes:
The work is often performed outdoors
Personnel perform their tasks at heights that can cause serious injury or death
The fall arrest system has limited time to engage and stop the fall
The pictures below tell the story….
In the photo above, the worker is 10-12 feet off the ground. When you combine the worker's actual height (approximately 6 feet) with the length of the connecting device forming the link between the body harness and the anchor point, the system must system arrest the fall quickly. The scenario shown above illustrates what we call a case of limited fall clearance distance–a situation ideally suited for a rigid rail solution.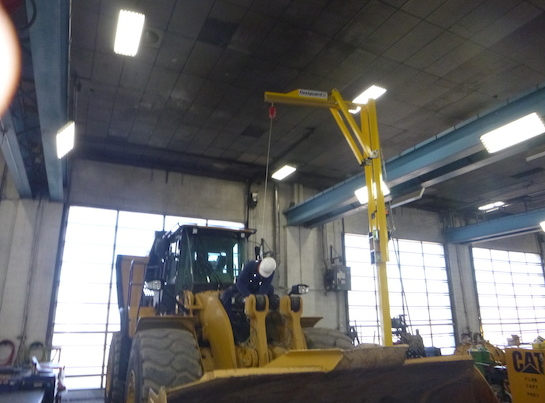 Portable EMU Fall Arrest System With Articulating Jib Arm
Mobile A-Frame fall arrest systems like the one shown above are ideal for applications requiring a portable fall protection solution. Workers tie off to the rigid beam positioned above the equipment and in the event of a slip, the system can arrest the fall before the employee strikes the ground below.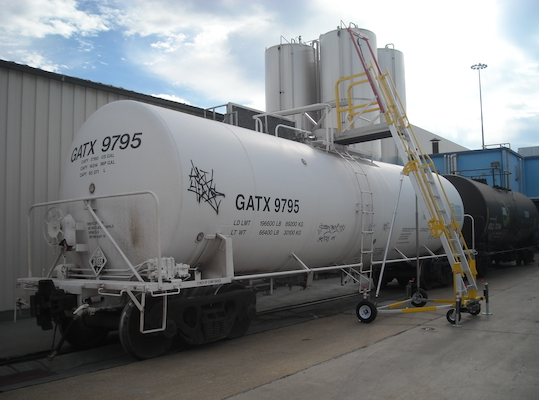 Mobile Freestanding Ladder System
Although freestanding ladder systems are commonly associated with aircraft maintenance and repair, a portable ladder has many additional uses, including the rail car loading application as shown above.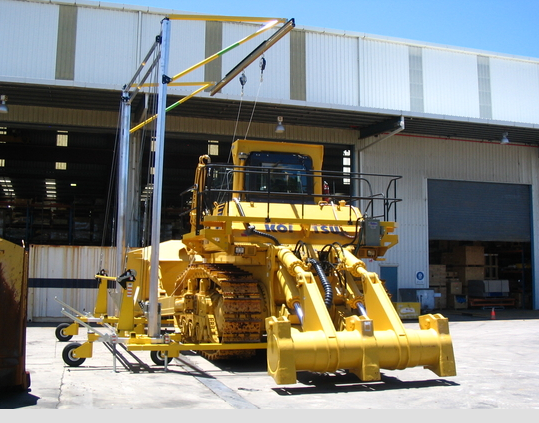 Portable C-Frame Fall Protection System
Mobile C-Frame fall protection systems are commonly used for aircraft and heavy equipment maintenance and repair. Based on the configuration of this system, proper access below the equipment being serviced is vital. Like the other fall arrest systems shown on this page, the C-Frame is ideal for applications without overhead anchor points and instances where the total fall clearance distance is minimal.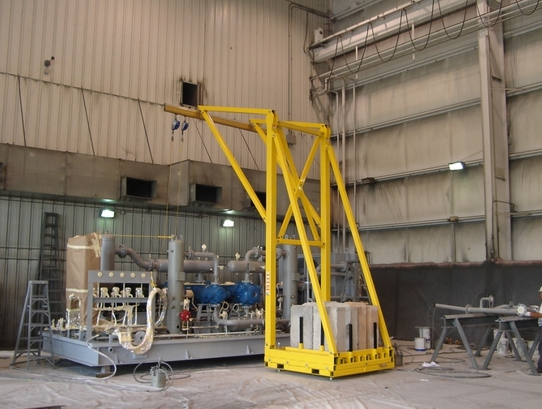 Counterweighted Rigid Rail System
Unlike most of the other fall arrest systems featured in this post, the counterweight style rigid rail system shown above lacks wheels, so you'll need a forklift to move it from one work area to the next. That said, the counter-balanced design means you can position the fall arrest system close to the desired working surface without obstructing the equipment being accessed.
In addition to providing an ideal OSHA compliant fall protection solution for areas lacking the overhead structure, our pre-engineered mobile fall protection systems also require shorter fabrication and delivery lead times than custom-engineered solutions. To learn more about the fall arrest systems described in this post, download our Mobile Fall Arrest Systems Brochure, or visit the links below:
C-Frame Fall Protection Systems
A-Frame Fall Protection Systems
Counterweighted Jib Fall Arrest Systems
Counterweighted Rigid Rail Fall Arrest Systems
Box Frame Fall Protection Systems
Portable EMU Rigid Beam /Articulating Mast Fall Protection System
Hitch Mounted Fall Arrest Systems
Diversified Fall Protection designs, manufactures, and installs OSHA Compliant fall protection systems, including horizontal lifelines, rigid trolley beam fall arrest systems, vertical lifelines, and rooftop guardrail. To learn more about our turnkey approach to fall protection, please contact us for expert assistance with your safety needs.