Mobile Counter-Weighted Jib Fall Protection System
Mobile Counterweighted Jib Fall Arrest Systems are an ideal portable fall protection solution for indoor and outdoor maintenance applications where mobility and worker safety are key. Portable counterweight fall arrest systems incorporate a 360° rotating jib with the capacity to provide fall protection for one person, four forklift pockets, and four heavy duty lifting rings to ensure ease of mobility and placement from job site to job site. These systems are ANSI and OSHA compliant.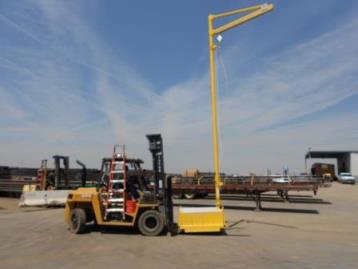 We are a complete turnkey provider of OSHA compliant portable and mobile fall arrest systems and have years of design and installation experience. Contact us for expert assistance with your fall arrest, fall restraint and fall protection safety requirements.
Mobile Counterweighted Jib Fall Arrest System Design Features
Powder-coated, anodized high strength alloy

Specifically engineered for extra tall and wide applications

Enclosed rail to help keep debris out (weather elements)

Systems contain two rails for bypassing trolleys

100% fall arrest rated tie-off from the ground up

SAE J429 Grade 8 hardware with zinc yellow chromate plated finish

Provides a large, safe working area — working radius from rail is 6 feet or 30°

Fixed height and adjustable height models available

Includes heavy-duty leveling jacks
Available Options
Periscoping rotation handles for turning system into working position

Two types of counterweight base solutions available, with or without concrete

System includes tag line assist

Winch Rescue Kit

Jack Mounts For Leveling

Custom Paint Job

Low Profile Kit
Personal Fall Arrest Systems
1926.502(d)(16) Personal fall arrest systems, when stopping a fall, shall:
1926.502(d)(16)(ii) limit maximum arresting force on an employee to 1,800 pounds (8 kN) when used with a body harness;
1926.502(d)(16)(iii) be rigged such that an employee can neither free fall more than 6 feet (1.8 m), nor contact any lower level;
1926.502(d)(16)(iv) bring an employee to a complete stop and limit maximum deceleration distance an employee travels to 3.5 feet (1.07 m); and,
1926.502(d)(16)(v) have sufficient strength to withstand twice the potential impact energy of an employee free falling a distance of 6 feet (1.8 m), or the free fall distance permitted by the system, whichever is less.