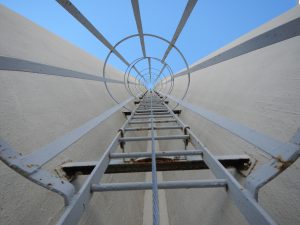 Recent changes to OSHA's Walking Working Surfaces regulations have prompted scores of questions such as "are caged ladders still OSHA compliant" and "when is a ladder lifeline required on a fixed ladder?" In this post, we'll tackle a recent client question on fixed ladders in an effort clear up some of the confusion surrounding the new OSHA regulations.
OSHA Ladder Cage Regulations
Our client posed a simple question—can a vertical lifeline system be added to an existing caged ladder to bring the ladder into compliance?
The simple answer is yes. That said, although adding a vertical lifeline is an ideal solution to ladder fall hazards, you might not need to install a ladder safety system to ensure OSHA compliance. Here's why…
One of the most publicized provisions of OSHA's revised Walking Working Surfaces ruling was a gradual phase out of ladder cages on ladders that extend 24 feet or more above a lower level. Turning back to the question posed above, if our client's ladder was 20 feet, there is no OSHA requirement for a cage or ladder safety system. The inclusion of a ladder safety system in this is a case is a best-practice but not an OSHA requirement.
Assuming the fixed caged ladder extends 24 feet or more above a lower level, then the lifeline requirement is dependent upon installation date. For installations prior to November of 2018, a cage would ensure OSHA compliance until 2036. If the ladder was installed after November of 2018, there is no grace period and a ladder lifeline would be required, even if the ladder has a cage. Here are the relevant fixed ladder compliance deadlines, per OSHA:
1910.28(b)(9)(i)(A)
Each existing fixed ladder installed before November 19, 2018 must be equipped with a personal fall arrest system, ladder safety system, cage, or well;
1910.28(b)(9)(i)(B)
Each fixed ladder installed on and after November 19, 2018 must be equipped with a personal fall arrest system or a ladder safety system;
1910.28(b)(9)(i)(C)
When a fixed ladder, cage, or well, or any portion of a section thereof, is replaced, a personal fall arrest system or ladder safety system must be installed in at least that section of the fixed ladder, cage, or well where the replacement is located; and
1910.28(b)(9)(i)(D)
On and after November 18, 2036, all fixed ladders must be equipped with a personal fall arrest system or a ladder safety system.
Important OSHA Reference Links
OSHA 1910 Subpart D-Walking Working Surfaces
OSHA 1910.28 Duty to Have Fall Protection and Falling Object Protection
In this particular case, our client's ladder was installed prior to the fall of 2018, so a cage "checks" the OSHA compliance box….until 2036. With that said, we recommended the addition of a vertical lifeline system on all caged access ladders as a best-practice prior to the final deadline.
Contrary to popular opinion, ladder cages do not arrest falls. Cages give climbers a false sense of security, funneling a falling climber to the bottom of the ladder. What's more, we've heard countless stories of climbers getting body limbs stuck in cages during falls, as well as traumatic head injuries when slips create falls.
Ladder cages also complicate rescue. An incapacitated worker is much more difficult to rescue in a caged ladder than a climber attached to a cable lifeline system. For all of these reasons, we urge our clients to make ladder fall protection decisions based on "best practices" rather than simply meeting OSHA's minimal fall protection requirements for older fixed ladders. There are times when going above and beyond OSHA requirements makes a world of sense, and ladder applications are case in point.
Do New OSHA Regulations Require Removal of Ladder Cages?
While we are on the subject of ladder cages, we should answer another common question—do I need to remove the cage to make my ladder OSHA compliant, and if so, when? Despite OSHA's gradual "phase-out" of ladder cages, the regulations do not require removal. Here is OSHA's stance on removing cages:
1910.28(b)(9)(iv)
The employer may use a cage or well in combination with a personal fall arrest system or ladder safety system provided that the cage or well does not interfere with the operation of the system.
Simply put, if the cage does not interfere with the operation of a ladder safety system, there is no need for removal prior to the final 2036 deadline. If you think about it, OSHA's position on ladder cages makes sense. Requiring removal of all caged ladders, or cutting away cages would be welcome news to ladder manufacturers, fall protection companies, and fabricators, but doing so would create enormous compliance issues—and huge expenses—for employers.
Parting Thoughts
Postponing lifeline installations on existing fixed ladders until 2036 certainly buys time, but we don't recommend it. A proactive approach will help your organization avoid the rush when the compliance deadline nears, and the added protection afforded by a lifeline system will help to create a safer workplace.
If your facility requires new access ladders (24' or more), there is no reason to specify a ladder with a cage since only a vertical lifeline ensures OSHA compliance. For these applications, cages add unnecessary cost to a project and additional maintenance over the service life of the ladder. What's more, due to space constraints, caged ladders are harder to climb—especially for taller and larger employees.
If you need additional information to determine whether your ladders meet the new OSHA regulations, or want to learn more about more about ladder solutions for your facility, we recommend downloading our Guide to Fixed Access Ladders, or contact the safety specialists at Diversified Fall Protection for further assistance.