When assessing a fall arrest application, two of the most important considerations include clearance distances and the availability of a suitable anchor point. There are always additional factors to consider, including the number of users and the size of the work area, but fall clearance and anchorage represent the starting points in personal fall arrest system (PFAS) design.
OSHA General Industry Regulations require fall protection for personnel exposed to fall hazards greater than four feet, but what are the available options when a fall must be arrested quickly to prevent a worker from striking the ground? One option is a rigid rail or trolley beam fall arrest system. Unlike a horizontal lifeline, a rigid rail fall arrest system paired with self-retracting lifelines offers a significant reduction in deflection, which in turn reduces required clearance distances during fall arrest. A trolley beam system often meets our first criteria–quickly stopping a fall with minimal clearance distance–but locating adequate anchoring structure is often problematic.
Anchorage requirements for rigid systems pose two distinct challenges. First, the I-beams we connect the system to must be strong enough to support the system–and to withstand the loads imposed by a fall. Secondly, the installers need access to the I-Beams to make the required connections. HVAC ductwork, electrical conduit, water pipes, and gas lines (also known as MEP) often clutter overhead areas found in industrial facilities.
Overcoming these challenges—low fall clearance distances and cluttered overhead spaces—requires an engineering oriented approach to fall protection, and our work with a major manufacturer is case in point.
Our client has a bay of grinding equipment requiring maintenance performed approximately 10 feet above ground level. Due to the minimal fall clearance, this application was well-suited for a rigid rail fall arrest system previously described, but anchoring the system to the structural steel was complicated by existing MEP.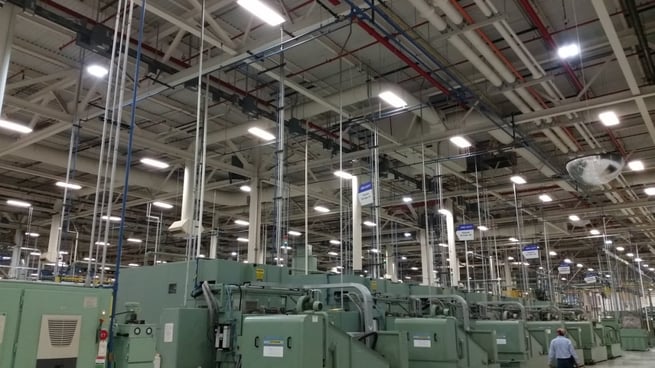 As the photo above suggests, we needed to devise a plan for suspending an overhead trolley beam fall arrest system beneath the MEP.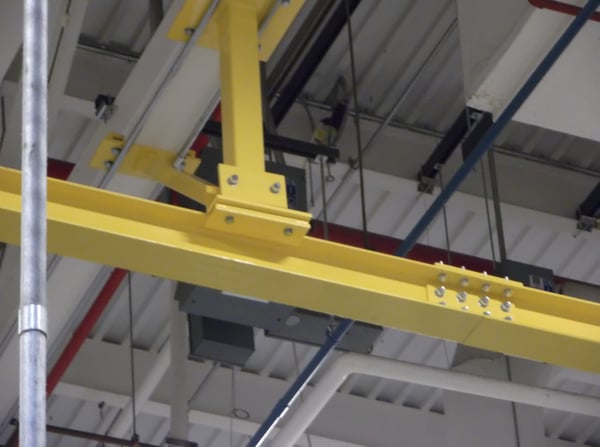 During our site visit, we learned that by-pass capability wasn't a priority, but the client wanted the ability to lengthen the system in the future to accommodate the addition of new equipment in the work area. Above you can see the splice used to join 600 pound I-beam sections, forming a continuous track.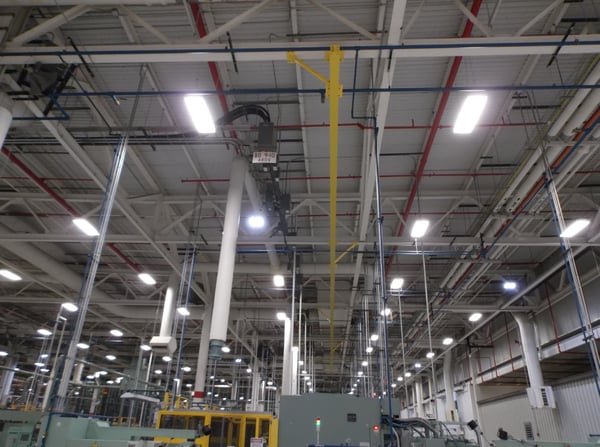 The finished rigid rail fall arrest system consists of four 30' rail sections connected to the structural steel using custom fabricated hanger assemblies with traverse kick back supports. The alternating hanger supports adds rigidity to the system.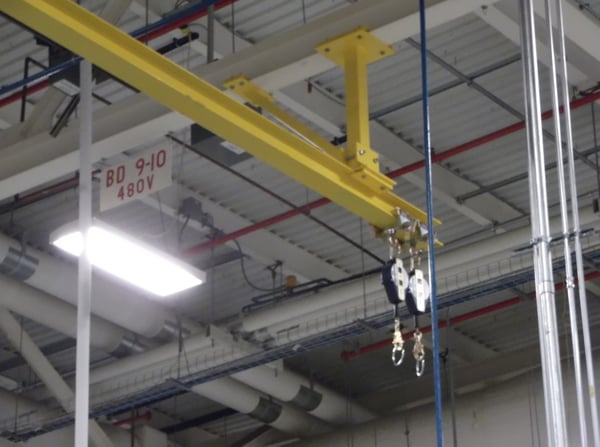 In addition to the track itself, the system utilizes two Ultra-Lok 30' Self-Retracting Lifelines and an adjustable beam width trolley.
Successful completion of this project required each department to execute their work with flawless precision. Engineering delivered an OSHA compliant solution to meet our client's present and future fall protection requirements, our shop personnel held tight tolerances during fabrication, eliminating the need to make field modifications, and the installers lifted and secured each 600-pound beam in place without disturbing nearby MEP.
It is also important to note that our project management team needed to coordinate this installation over the course of two evenings to avoid manufacturing downtime. In any given month, our project managers oversee a number of installations requiring completion around shift changes and temporary plant shut-downs to complete our work without compromising productivity at our clients' facilities.
Although a rigid rail fall arrest system is an ideal solution for applications with minimal fall clearance distance, installation is often complicated by the presence of pipes, conduit, and HVAC ducts competing for the same space overhead. What's more, an engineer will need to perform calculations to ensure the overhead structure can withstand the loads imposed by a fall arrest scenario. Short story long, identifying a potential solution is often the least complicated piece of the puzzle. Providing an OSHA compliant fall arrest system that works in harmony with existing structure requires years of engineering experience—and a competent installation team to see the project through to completion.
To learn more, download our executive brief on selecting a fall protection company, or contact Diversified Fall Protection to discuss your safety requirements.