When it comes to rooftop fall protection, a wide range of options ranging from guardrail to horizontal lifelines can ensure worker safety and OSHA compliance. Choosing from multiple strategies means we can tailor a system to meet your specific needs and budget, but this range of choice can cause client confusion too. This post discusses two of the more common approaches to rooftop fall protection–guardrail and horizontal lifeline systems.
Before discussing the merits and challenges posed by each system type, we need to start thinking about your roof, and more specifically, the application. All of our safety engineers are trained to start the discussion by asking basic questions about the pitch and composition of the roofing material, coverage area, and budget. For this post, we'll explore the decision making process used to select the fall protection system for an Indiana steel plant.
Our client's maintenance personnel needed fall protection to access safely and maintain rooftop exhaust fans and a water cooling tower. OSHA 1910 general industry fall protection provisions require fall protection for employees working at heights in excess of four feet, but the regulations do not specify a particular system type.
Low slope and flat commercial roof applications are often ideal for freestanding portable guardrail systems. Guardrail installations require no rooftop penetrations, and you can eliminate the PPE, training, and inspection/re-certification requirements associated with engineered lifeline systems. The pitch of our client's roof (2/12) did not rule portable guardrail out as an option, but the application required fall protection for a large work area. Horizontal lifelines are considered "engineered fall protection systems", and as such, one might expect an HLL to carry a higher price tag, but this is not always the case, especially with larger installations. Installing perimeter guardrail on larger rooftops (1/4 mile or more in some instances) requires a sizable investment that not all companies are willing to make. The sheer size of the steel plant's designated work area was ideal for a horizontal lifeline.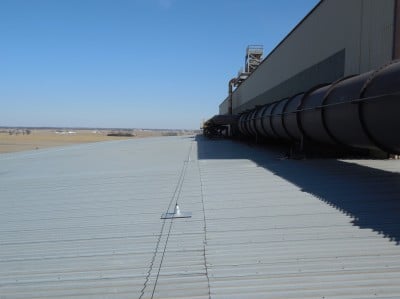 One of the more demanding engineering aspects of a horizontal lifeline installation is determining the anchor point attachment methodology. In previous posts, we noted that selecting an anchor point method for a horizontal lifeline is dictated by roof pitch. Roofs with steep pitches in excess of 4/12 typically require rigid post anchors while rooftops with pitches less than 4/12 are well-suited for tip-over style anchor connections. Here the 2/12 pitch corrugated sheet metal roof was ideal for riveted tip over posts. Tip over post technology is minimally invasive and far less prone to leaks than rigid posts attached to the structural steel beneath the roof deck.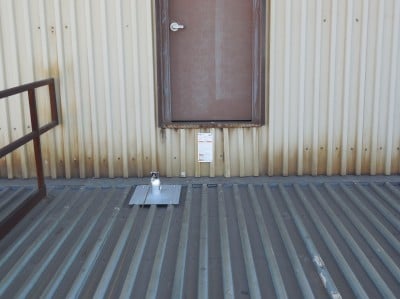 The finished installation spanning 400 feet features continuous pass-through and accommodates up to three users. Maintenance personnel have direct access to the horizontal lifeline system from the moment they step foot on the roof.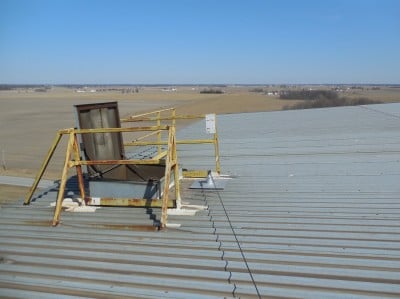 When comparing relative costs of rooftop guardrail and horizontal lifeline solutions, it is also important to think about budget post installation. Guardrail typically carries a one-time purchase and installation cost. There is no need for annual inspections, and the system only needs repair if the railing is damaged. A horizontal lifeline requires annual inspection and re-certification by a competent person. When you factor in these costs, the cost of a horizontal lifeline CAN meet or exceed that of a guardrail installation, but the price differential for larger rooftops narrows significantly only after many years.
Remember, infrequent rooftop access does not excuse an employer from providing fall protection for maintenance personnel. Whether your staff accesses the rooftop once a year or daily, the OSHA standards are clear and non-compliance penalties are significant. The best way to avoid sizable fines, injuries, and possible fatalities is to partner with a fall protection company that understands the complexities of rooftop fall protection. To learn more, download our white paper on selecting the proper fall protection company, or visit us online at www.fallprotect.com