This is the time of year companies start thinking about rooftop maintenance and inspection. The snow and ice is gone and it is time to work outside….at heights….but how do you provide safe rooftop access for your personnel? The best place to start is by asking two basic questions:
What is the pitch of the roof?
What is the size of the intended coverage area?
Our recent installation for an Indiana steel plant perfectly illustrates the decisions and choices required when selecting a rooftop fall protection system and suitable anchorage options.
Our client's maintenance personnel needed rooftop fall protection to safely access and maintain exhaust fans and a water cooling tower. These activities fall under OSHA 1910 general industry provisions which require some form of fall protection for employees working at heights in excess of four feet. For smaller roofs with little or no pitch, a guardrail system is an option, but in this instance, the roof's pitch and the size of the coverage area pointed to use of a horizontal lifeline system.
With a HLL system selected as the fall protection system, we turned to selecting an anchorage solution that suited the application. As we have mentioned in previous posts, choice of anchor style for horizontal lifeline applications is often dictated by roof pitch. Installations with steep pitches in excess of 4/12 typically require rigid post anchors while roofs with pitches less than 4/12 are well suited for tip-over style anchor connections. In this instance, we were working with a 2/12 pitch corrugated sheet metal roof which is ideally suited for riveted tip over posts. This installation method is minimally invasive and far less prone to leaks than systems anchored with rigid posts where large holes are cut to mechanically attach the post to structural steel beneath the roof deck. The finished installation spanning 400 feet features continuous pass through and is rated for three users.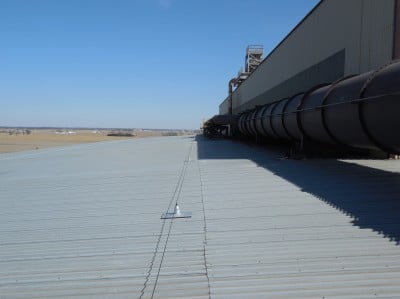 As you can see from the pictures below, maintenance personnel have direct access to the horizontal lifeline system from the moment they step foot on the roof. This allows for 100% tie-off capability at all times, which in turn, increases the safety factor of the fall protection system.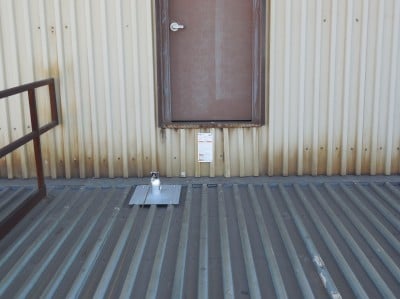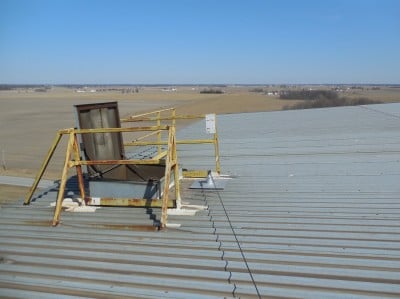 It is important to remember that infrequent rooftop access does not excuse an employer from providing some form of fall protection for maintenance personnel. Whether your staff accesses the rooftop once a year or daily, the OSHA standards are clear and the penalties for non-compliance are significant. In a best case scenario, failure to provide rooftop fall protection can translate into fines in the thousands of dollars; in a worst case scenario, the absence of suitable fall protection can cost an employee his or her life. The best way to avoid sizable fines, injuries, and possible fatalities is to partner with a fall protection company that understands the complexities of rooftop fall protection. To learn more, download our white paper on selecting the proper fall protection company, or visit us online at www.fallprotect.com.