Other than price, what is the main difference between competing rooftop safety railing systems? Guardrail systems consist of safety yellow or galvanized rails secured by weighted bases. In addition, all OSHA-compliant guardrail systems feature 42" top rails capable of withstanding 200 pounds of force and 21" mid-rails capable of withstanding 150 pounds of force in any direction. In short, competing safety railing systems look virtually identical, with one notable exception: baseplates.
Because the base plate is the only connection between the railing and the roof surface, many clients mistakenly assume heavier base plates equate to safer perimeter railing systems. However, while most of our competitors rely on sheer mass (90-100 pounds) to ensure OSHA compliance, DFP's Lorguard™ base plates meet all OSHA requirements and weigh just 57 pounds. What's more, lighter base plates reduce purchase price, freight and installation costs, and the strain on structural members and roofing materials. To quantify weight savings, reference the chart below: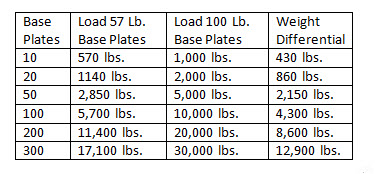 DFP base plates also feature a set screw design to secure the rail, eliminating the wobble commonly associated with lock pin designs.
Since their introduction in 1994, Lorguard™ base plates have offered best-in-class performance and value versus our competition. Diversified Fall Protection now provides even greater base plate value thanks to a new finishing process called thermal diffusion galvanizing. Unlike hot-dip galvanizing, the environmentally friendly thermal diffusion galvanizing process produces near-zero-emissions and is non-toxic and heavy metal-free. The finished result is a cost-effective, corrosion-resistant finish with a longer service life than hot-dip galvanizing.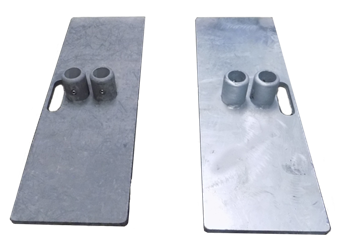 Thermal Diffusion Galvanized Hot Dip Galvanized

Elevate Rooftop Safety—and Performance--with Lorguard ™
Although competing rooftop guardrail systems may look similar, remember the real differences in cost and performance lie in base plate construction, not the rails. Maximizing the performance, cost savings, and service-life of your guardrail system starts with a better base plate—Lorguard™ base plates from Diversified Fall Protection. To learn more about rooftop guardrail systems, or to request a quote, contact the safety specialists at Diversified Fall Protection for further assistance.