Access ladders are one of the hardest hit areas by OSHA's Walking Working Surfaces regulations. When thinking of ladder safety, there is an abundance of safety information on extension and portable ladders. In honor of National Ladder Safety Month, we want to shed light on 4 important safety measurements for a fixed ladder safety system.
1. Climbing Width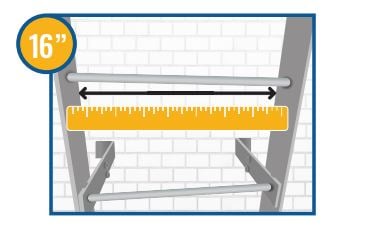 Climbing width: must be a minimum of 16 inches. Per OSHA 1910.23 (b)(4)
2. Stand-Off Distance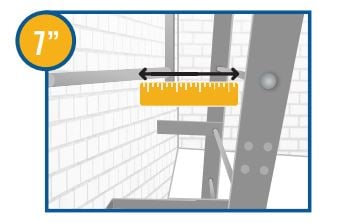 A stand-off distance of 7 inches. A minimum of 7 inches must be measured from the mid-point of the ladder rung to the nearest permanent object in back of the ladder. Be sure to allow safe clearance including any permanent obstructions in your calculation. Per OSHA 1910.23 (b)(4)
3. Grab Bar Extension Height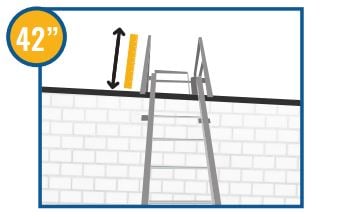 To protect the worker exiting a ladder, OSHA requires a 42-inch high grab bar extension above the access level or landing platform at the top of the ladder. Per OSHA 1910.23 (d)(4)
4. Grab Bar Extension Width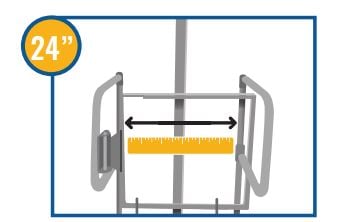 The (required) extension above the top access level must be at least 24 inches wide (to accommodate the width of the climber's body). The extension can be no more than 30 inches wide, (36 inches if a ladder lifeline is provided) allowing the climber to easily reach both handrails. Per OSHA 1910.30 (d)(5)
Is your Ladder Safety System OSHA-compliant?
At DFP, we are working hard to help our clients bring their ladder safety system into compliance. To this end, we have developed our EZ Series Fixed Access Ladders, which provide a high degree of adjustability to meet the unforeseen installation challenges in the field (e.g., obstructions that require stand-off distances greater than 7"). This makes it much easier, faster and safer to install around obstructions.
In addition to creating a better fixed access ladder, we've also created new literature that includes a complete list of part numbers needed to configure your new access ladders. Click the image below to download: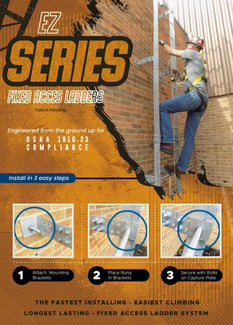 Remember, our EZ Series Fixed Access Ladders ship from stock, with most orders leaving our facility within 2 business days. To learn more about how to bring your fixed access ladders into OSHA compliance, contact the safety experts at Diversified Fall Protection for further assistance.