OSHA's Slips, Trips, and Falls Regulations (Updated July 2017) cover a broad range of fall protection topics, including fixed ladders. For fixed ladders, the most important rule changes involve width and offset distance requirements.
In addition, importantly, cage systems will no longer be an acceptable protection device for ladders 24 feet and higher installed after November 19, 2018.
Watch the video explanation below by our President, Jeff Schneid explaining the updated ladder safety regulations. In the video, Jeff give tips on assuring that your your ladders comply with the new regulations.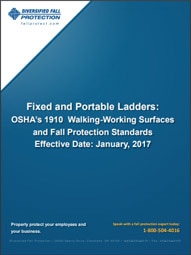 If you are looking for a comprehensive explanation of OSHA's new Walking Working Surfaces ruling, be sure to check out our E-Book, which can be downloaded here. As always, if you have questions about fall protection, or OSHA compliance, contact the safety experts at Diversified Fall Protection for further assistance.