Unguarded ladders can allow unauthorized personnel to access your rooftop, exposing your company to risk and liability. The traditional solution to this age-old problem is a hinged ladder door that secures the ladder with a lock.
Hinged ladder doors present a simple solution to unauthorized ladder access, but this style of ladder guard is not without shortcomings. For starters, ladder doors are typically fabricated from sheet metal, which adds weight that complicates installation and adds cost. Hinged ladder doors also present pinch points.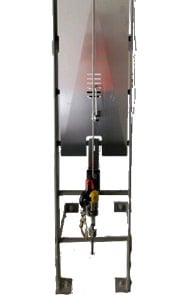 New Thinking Brought to the Guard
The Diversified Fall Protection engineering staff set out to design an alternative to fabricated sheet metal ladder doors. The finished product—the EZ Ladder Guard addresses all of the common pain points associated with traditional ladder guards. Available in 16" and 18" widths, the EZ Ladder Guard fits virtually any commercially available fixed-in place access ladder. The engineering team did away with the hinged design and opted for a lightweight, corrosion resistant 5052 aluminum panel that rests on the rung and locks in place. To secure the ladder, use the lifting bar on the front surface of the panel, hook the mounting lip to a rung, and secure the guard to the ladder with a lock.

Our new design easily accommodates ladder lifeline systems, and the aluminum construction will withstand the elements and provide exceptionally long service life.
| Part Number | Dimensions | Material |
| --- | --- | --- |
| FL-LGEXIST-02 | 78" H x 16" W x 0.125" Thick | 50502 Aluminum |
| FL-LGDFP-02 | 78" H x 18" W x 0.125" Thick | 50502 Aluminum |
To learn more about how to prevent unauthorized use of your access ladders, or to place an order, contact the safety professionals at Diversified Fall Protection.