With over 2,300 situations cited by OSHA Inspectors this year, violations for Ladders in the workplace was squarely in the middle of the top 10 most frequent citations issued. As a manufacturer of roof access ladders and integrators of vertical ladder lifelines for permanently mounted ladders, we are concerned that what appear to be common and addressable safety hazards are not being addressed.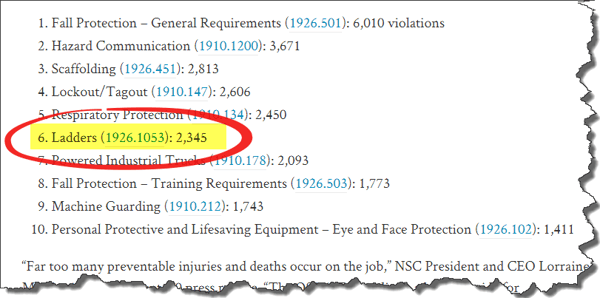 The complete list serves to increase awareness of the standards that require more attention. By doing so, employers can take steps to find and fix the hazards to prevent injury or illness. This is a great template for a review of your own facility, both from an OSHA compliance standpoint and common-sense best practices.
Our EZ Roof Access Ladder Series was designed from the ground up to make it "EZ" to Install, Climb, and attached the required Vertical Lifeline (if over 20 feet from surface to surface.) The EZ ladder was also designed to address common ladder violations such as rungs to have a minimum clear width of 16 inches, a minimum of 7 inches of distance between the ladder rung (centerline) and the building, including any permanent obstructions and the OSHA required 42-inch high grab bar extension above the access level or landing platform at the top of the ladder.
With the final numbers of each violation coming out at the end of November, here are OSHA's preliminary results released during the National Safety Council 2019 Congress & Expo.
Most Cited Violations of 2019
Fall Protection – General Requirements (1926.501) – 6,010
Hazard Communication (1910.1200) – 3,671
Scaffolding – General Requirements (1926.451) – 2,813
Control of Hazardous Energy – Lockout/Tagout (1910.147) – 2,606
Respiratory Protection (1910.134) – 2,450
Ladders (1926.1053) – 2,345
Powered Industrial Trucks (1910.178) – 2,093
Fall Protection – Training Requirements (1926.503) – 1,773
Machine Guarding– General Requirement (1910.212) – 1,743
Personal Protective and Lifesaving Equipment – Eye and Face Protection (1926.102) – 1,411
As fall protection experts, we want to first educate you and help you identify fall hazards wherever you have workers on the job at heights. Contact us today to make your workplace safer tomorrow.